Greening of Murphy's Yard talk at KTNF AGM
Heath Cliff – one of the proposed green areas of the development
Murphy has agreed to present at KTNF's AGM on the environmental and green aspects of the Murphy's Yard development.
The KTNF AGM is being held by Zoom on Thursday 21st January 2021 from 7-9pm. If you are interested in attending, please reply and an invite will be sent.
Topics will cover energy use, wildlife, landscaping, plants and greening generally. Some of the questions that we hope will be answered are: how will the homes and other buildings be heated; how much renewable energy will be created and stored; what measures will contribute to Camden's 2030 zero carbon target; which wildlife do you want to keep/attract and how; will there be a plant specification policy and what is the intention; how is the site designed to combat future flooding events? Additional questions can be sent in advance. Only written questions will be accepted, either before or during the meeting.
Murphy and its team will be represented by Paul Brosnahan (director) and Kate Macmillan, Dan Mahony (Architect, SEW), Stephanos Georgiou (Landscape Architect, SEW) and Jo Drane (Sustainability Consultant, Hoare Lea).
The AGM agenda can be seen here.
Murphy's Yard development

Employment area in the Murphy's development
KTNF has been consulting on the Murphy's Yard development throughout the year.
A fuller summary will be given at the AGM.
KTNF engages with government over planning changes

Photo from the joint UCL and Liverpool University report
KTNF wrote to the secretary of state, Robert Jenrick and local MP Sir Keir Starmer over changes and new proposals for the planning regime and the effect they would have on Kentish Town and the Neighbourhood Plan.
A major concern is that if non-residential premises can be converted to housing without permission and the controls that normally go with it, the quality of the new housing will suffer.
We provided evidence to support this concern from government-funded research by the Bartlett School of Planning, UCL and the Department of Geography and Planning, University of Liverpool that only 22.1% of dwelling units created through permitted development rights (i.e., without the need for planning permission) would meet nationally described space standards, compared to 73.4% of those created through full planning permission.
Other findings that reveal the inadequacy of the permitted development rights
system for housing include, fewer windows, and less amenity space (3.5% compared
with 23.1%).
We said we favour the local planning authority retaining an element of control in permitting the replacement of a retail use, by easing, not removing, their powers to influence the balance of uses for the benefit of the community.
We said the new use class E is too wide, containing uses which would not sit satisfactorily next to one another. A prime example is including 'any industrial process' in the same class as 'clinics, health centres, creches, day nurseries, day centre'. We consider that 'industrial' should have its own use class. We also question the desirability of including 'café or restaurant' in the same use class as the health-related uses just mentioned.
Given the disruption to habits this year, KTNF considers that there should be a moratorium on any changes to the planning regime.
We received a reply from Paul Martin, Planning Development Management, Planning Directorate, Ministry of Housing, Communities and Local Government.
On the permitted development rights to allow buildings to be extended two storeys upwards and allowing vacant commercial, industrial, and residential blocks to be demolished and replaced with new residential units, MHCLG said the measures will help make the best use of previously developed sites and avoid the need to build on greenfield land.
On the Use Class changes, MHCLG said it will create a new broad category of 'commercial, business and service' uses which will allow commercial, retail and leisure uses greater freedom to adapt to changing circumstances and respond to the needs of their local communities.
And on changes to the planning regime, it said Ministers are committed to modernising the planning system, ensuring it supports the delivery of more high quality, well designed homes that local people need, and creates more beautiful and greener communities.
KTNF responds to planning White Paper – Planning for the Future

Housing development – credit Alan Walker
There were some proposals in the Planning White Paper which the KTNF committee favoured, but some which were not.
KTNF, for example likes more engagement in the local plan; and the increased focus on sustainability if clearly defined.
But it has mixed views on local needs and decision making and thinks one size fits all regime and national design codes will not work.
The government and local government have a lot to do to set up the proposed new system and little details are outlined.
KTNF wants to be consulted in two steps – local plan and on individual buildings.  Applications should go to as many as possible, and much more detail is needed including on zoning disputes and different building types, not just housing.
To see KTNF's full response.
Green Gateway pilot progressing

Example of a Green Gateway project in Islington
One of the projects voted for in the referendum was Green gateways at the end of four streets leading to Kentish Town High Street.
KTNF and KTRA are progressing the proposals. There was a walkabout in the summer and several meetings including with three Camden departments.
The idea is to develop a pilot at the end of one of the streets and assess its success prior to potentially implementing the other three.
KTNF meets SEGRO
SEGRO bought the building, vacant since 2017 in Spring Place from Brockton Capital and is applying for planning consent 'to widen the permitted use of the unit from General Industrial to include light industrial and storage or distribution.
It plans an £1m internal and external refurbishment and let it to one or two users ranging from TV production, food preparation to delivery and logistics and set to create 40 jobs and the company will train new employees.
SEGRO consulted KTNF at an early stage and we had the opportunity to express our concern over the volume of traffic movements to and from the site. We continue to work on our response to the traffic issue before deciding on the extent of our support or otherwise for the proposals.'
Kentish Town Planning updates
Bull and Gate – application for a terrace turned down
A planning application has gone in for the building adjacent to Doppio café for a mansard extension and change to the front façade. The KTNF response is to improve the quality of the design in relation to adjacent properties – fitting the grain – and making the mansard less oppressive.
The old Oddbins shop is now a private gym in Kentish Town Road. It is under new planning class E – so does not need a planning application.
The Old Post Office is Kentish Town Road is now a café (A1) It is under new planning use E (A1-A3) so does not need an application.
An application went in Holmes Road to add a storey to a seven-storey student block. KTNF says the area does not need D3 and the proposal 'affects the grain'. Camden Council turned it down.
Bull & Gate – KTNF supported application for terrace but stressed it was important that licensing is appropriate. Camden turned it down.
2 Prince of Wales Road – Camden Law Centre. Maintenance is ongoing (no planning application has gone in.)
Ex-Carpetright building – work ongoing. It is owned by property company of Sports Direct Group. The ground floor and basement are A1; the first floor – offices and the second, third and fourth floors – residential.
Ex-Pizza Express building. Work ongoing – steelwork going in.
The secretary of state has granted a direction which removes permitted development rights for Estate Agent's boards in town centres and conservation areas – they now need planning permission.
________________________________________________________________________________________________
KTNF AGM Thursday 23 January including: Pizza Express building developer | The Kentish Town Planning Framework and Murphy's Yard update.
A reminder that the Kentish Town Neighbourhood Forum AGM is taking place on Thursday 23rd at 7 in the Sun Room, Kentish Town Health Centre, 2 Bartholomew Road NW5 2BX.
Kentish Town Health Centre

Vabel, the developers of the Pizza Express building and forthcoming cinema will talk and there will be updates on the Kentish Town Planning Framework and Murphy's Yard along with other local issues.
Besides the agenda below, is a link to the previous AGM minutes.
Please feel free to send to local networks.
It would be much appreciated if you would feel able to make a voluntary donation of, say, £5.00, at the AGM towards KTNF's costs of room hire, maintaining the website, printing and other incidental costs that KTNF incurs as a self-financing organisation.
Thank you.
Agenda:
1. Apologies
2. Welcome and brief introduction by Chair
3. Approval of minutes of 2019 AGM
4. Treasurer's report
5. Pizza Express building – Update from the developer
6. Overview of year's activities
7. KTNF and the draft Kentish Town Planning Framework
8. KTNF and Murphy's Yard
9. KTNF and the future of the high street and environmental issues
10. KTNF and an update on current Planning applications
11. Election of Committee for 2020
12. Questions & Answers
13. Any other business
14. 1st Committee meeting of 2020 – 6 February
15. Close 8.30 sharp.
WE WELCOME NEW COMMITTEE MEMBERS. IF YOU ARE INTERESTED PLEASE CONTACT US BEFORE, DURING OR AFTER THE MEETING.
Consultation on final draft Kentish Town Planning Framework 
The public consultation on the final draft Kentish Town Planning Framework is open and will run until 29 January.
Kentish Town is a key area for growth in the borough and the framework is a document to guide future development proposals in the area.
Camden plans for around 2,000 new homes, 3,000 new jobs, and connections including a new green pedestrian and cycle link between Kentish Town and Hampstead Heath.
New community facilities are also planned with key aims being to retain the sense of history and character at the same time striving for environmental sustainability.
KTNF has had a strong input into the framework over the past 18 months.
More information:
https://www.camden.gov.uk/kentish–town-planning-framework1
Workshops on Murphy's Yard development
188 people went to summer workshops and the key issues of concern were the height of buildings and traffic.  Attendees wanted: green space, new access routes and housing with development driven by sustainability.
The November workshop covered: Placemaking Principles, The Evolving Layout and Massing Evolution, the Heathline – cycle and pedestrian route through the site, Open Spaces and Placemaking, Industrial Land Use, Community and Leisure needs. Plans are afoot for a food market and maker spaces. Green areas include: Pergola Garden, Heathcliff, Murphy's Meadow and Gospel Oak Gate.
750 homes are planned for the development along with 40,000sq m of industrial use and 40,000sq m office use. Workspace is planned for south with residential at north with heights ranging from 5-18 storeys with a target of 35% affordable housing plans for low energy consumption and district heating and restrictions are set to be placed on delivery vehicles.
Attendees heard that it is not a straight-forward site to develop with constraints discussed including a 9m change of level; listed sheds; viewing corridors from Kentish Town to the Heath; an ecological reserve; sewer and gas pipes and rail tunnel.
A planning application for the development is due to be submitted in the Spring of this year.
More information:
http://www.murphysyardconsultation.co.uk/
Planning Updates
The Car Wash site – planning permission received; currently working out Section 106 Agreement and Network Rail costs.
Pizza Express Building – Work progressing; steel frame erected in September; new ground floor slab and cinema pit – complete; demolition of the mezzanine slab – 50% done. Hear the latest update at the AGM.
Carpetright site – activity happening.
Raglan House – sold off; planning application in for six town houses. Expectation that consent will be given.
Regis Road Estate – Planning application in for the JML Building. Change of use class from B1 Offices to B8. No objection.
New Camden Community Infrastructure rates
The CIL is a standard charge collected from developers on a rate per sq. m basis after their planning permissions have been implemented and the funds raised are spent on infrastructure or to support the development of an area including community projects.
The Council is proposing to increase its current Community Infrastructure Levy (CIL) rates for offices, and hotel uses in Central London and adjust the rates for other uses in line with building cost inflation.
A public consultation on the proposed changes finished on the 2 December 2019 and an examination is due in the new year.
More information:
https://consultations.wearecamden.org/supporting-communities/partial-review-of-camden-s-community-infrastructur/
Dartmouth Park Neighbourhood Plan referendum set for 6 February
The Dartmouth Park Neighbourhood Plan has passed independent examination and will now proceed to local referendum.
Due to a delay caused by the general election, the referendum is due to take place on 6 February 2020.
More information:
https://www.camden.gov.uk/web/guest/dartmouth-park-neighbourhood–forum
Tree and lights update
A canopy planter has been moved for the Christmas Tree and is now opposite the entrance to Kentish Town Station. Camden Council is currently seeking a solution to the canopy space left by the tree(s).
Congratulations to Caroline Hill and Kentish Town Road Action for organising the Christmas lights and facilitating the opening celebration.
(September 2019) The cinema is coming, says developer
Pizza Express Building (Pic: Chris Hudson)
Building works have started and are ongoing at the old Pizza Express building and the director of VABEL, the company in charge of the project, says the cinema will come – next summer.
The new developer has planning permission for 12 flats and a ground floor cinema.
Director of the company, Jeremy Spencer told the CNJ that the building needed structural work to create a screening room that can hold the weight of the homes above and the designs of the flats needed to be changed to improve acoustics and sound-proofing.
Murphy's Yard Update
An Open Exhibition putting forward some ideas and asking for community input took place in July.
The seven hectare site is currently underutilised. Murphy is committed to maintaining a long-term and substantial presence on the site. The Council is supportive that Murphy remains a central part of the local business community.
But the redevelopment opens up many opportunities. Much of the operational areas are under-used, so there is a significant potential to create more affordable homes, more jobs, more open spaces, increase biodiversity, more pedestrian and cycle routes and a new public route between Kentish Town and Hampstead Heath.
Constraints include an ecological nature reserve, Network Rail access points, steep level changes, Thames Water sewer, a gas compound, a railway tunnel and rail lines.
Any development has to work within the framework of the Camden Site Allocations Plan, the London Plan, the Local Plan, KTNF and DPNF plans and the draft Kentish Town Planning Framework document.
The team is aiming for 2020 approval for the plans.
For more details and feedback form: 
http://www.murphysyardconsultation.co.uk/
Future High Streets Fund

Kentish Town High Street planters (pic Chris Hudson)
Fifty projects submitted for the Future High Streets Fund were announced as going forward  in July, from hundreds of applications. And a further fifty in August. The Kentish Town High Street bid did not reach the second stage.
Three sites in London selected to go forward to the next round in the first tranche were: Tottenham High Road, Old Kent Road in Southwark and Sutton High Street. Greenwich, Woolwich Town Centre and Putney Town Centre were selected in the second tranche.
Camden representatives said the Kentish Town High Street bid put forward a progressive narrative and Camden Council wants to look again and see what can be taken forward in other ways.
Camden Council is in liaison with Councillor Danny Beales on this.
On other High Street initiatives resulting from the joint KTRA, TKT and KTNF meeting in January, a letter has been sent to Camden Council on restricting night time deliveries; plans have been mooted for a street party in relation to Christmas Lights; work is underway to try to extend business hours to provide work experience for students.
On the Kentish Town High Street planters, a bulb planting session has been planned for October.
On the Cottage Garden on Platform One on Kentish Town Overground, now two and a half years old, KTNF is continuing to run the watering and maintenance with Transition Kentish Town and Govia.
Update on other developments and planning applications
The fountain under the canopy is part of Mayor of London's Freshwater Fountains initiative.
Developers are investigating building six town houses at Raglan House, Raglan Street.
The old HSBC bank unit has now been re let to Creams and is now open as an ice cream and desserts parlour.
The Fortess Road redevelopment (3 units next to the Co-Op shop) to create new flats and ground floor and basement retail unit) was generally supported by KTNF.
The old Santander bank unit next to Morgan's the printers is being fitted out by The British Heart Foundation.
The old Oddbins shop has been relet and is being fitted out and will be occupied by Inside Store London. They sell gifts, accessories and furniture we believe.
KTNF has had informal talks with an artisan baker to help them identify potential premises in Kentish Town to open a bakery and shop.
KTNF supports restricting pollarding of trees
Pollarding a horse chestnut (credit: J. Taylor – geograph.org.uk – 1268299.jpg)
KTNF supports the initiative to reduce pollarding of trees in Camden led by local resident, Harvey Flinder.
The initiative is against unnecessary pollarding which it says kills some types of trees. Following research in surrounding boroughs, the team found that even though there was less pollarding, there was no difference in subsidence claims. Subsidence risk is one of the main reasons Camden do so much pollarding.
The team also says less pollarding will provide leaf and branch cover for protection from heat and provide evaporative cooling in the summer along with increased carbon dioxide absorption.


The Ministry to visit Kentish Town
KTNF is arranging for representatives from the Ministry of Housing, Communities and Local Government to visit Kentish Town.
MHCLG wants to study what it takes to go through creating a neighbourhood forum and carry it through from inspection and referendum to an adopted plan.
We will be able to share with them the planning policies in the Kentish Town  Neighbourhood Plan (which can be viewed on (www.ktnf.org) and explain what help we needed to achieve these.
KTNF seeks members for its committee
KTNF is seeking four more people to join the committee. We have set out below what being a committee member involves.
We especially welcome applications from women, people under 25 and those from a BAME background who are currently under represented on the committee.
* KTNF's main role is to monitor and progress the ambitions set out in the Kentish Town Neighbourhood Plan. We will give new committee members a face to face briefing about the Plan to enable you to understand the Policies and the ambitions behind it.
* The only real qualification we are looking for is that you have an interest in the type of development that takes place in Kentish Town and are happy to support the Policies in the Plan.
* Potential committee members will want to understand what the time commitment would be in order to carry out this role and we set out below the activities that we would ask you to commit to:
attend quarterly meetings in Kentish Town that usually last from 7pm to 9.30 pm. Apart from attending and contributing to the meetings, there may be some material that you will have to be read in advance in preparation for the meetings;
We hold one annual general meeting you would be expected to attend;
Apart from these 4 formal meetings, during the year we do most of our other business by email. This usually means seeking the views of committee members on important matters that arise on an ad hoc basis. We would expect committee members to read any relevant material and to respond to the emails within a certain time frame, for example 2 weeks is usual.
Essentially, these are the main duties of a committee member. We occasionally set up a sub group of a small group of committee members to look at a particular issue. If you have a particular interest in one of these issues, you are welcome to volunteer to join a sub-committee but this will be entirely your choice.
If you are interested in learning more about the role before committing, we would be very happy to speak with you further.
Camden consults on Kentish Town Draft Planning Framework
Camden Council has opened a consultation on the draft planning framework which includes intensive work from Kentish Town Neighbourhood Forum on the Regis Road site and part of Murphy's land.
Both areas formed a core part of the adopted plan, and several members of the KTNF were on the working party with members of the Dartmouth Park Neighbourhood Forum (whose boundary covers the other part of Murphy's) and several Camden Council planners. The group held several meetings developing plans and strategies which built upon the original plans and the first set of consultations earlier in the year.
Public consultation on the draft framework is now open and will run until 7 December 2018.  The consultation is open to local residents, businesses, landowners, workers, community groups, and everyone else who has an interest in the area.
Camden Council and the group will analyse the responses and finesse the document and there is likely to be a further more limited stage of consultation in 2019 before the Council adopts the final framework as a Supplementary Planning Document.
Public open sessions where you can talk to members of the team are at Kentish Town Library, 262-266 Kentish Town Road, London NW5 2AA on Thursday 8 November 1 to 4pm and Tuesday 20 November 5 to 8pm.
Comments can also be sent to: kentishtownnf@gmail.com or kentish.town@camden.gov.uk
More details on consultation: https://bit.ly/2uNN45A
KTNF Pubs Working Group seeks answers on uses
The Assembly House
KTNF now has a working group that is obtaining  evidence required to support the nomination of a pub as an ACV. And we need your help and support in this.
The KTNF committee thanks those of you who responded to our recent email asking for support to implement our policy to protect pubs in our area.
As part of this exercise it would be very helpful to receive information from you, so do please respond to the questions in this email. Our intention is to nominate all the pubs listed in the Neighbourhood Plan at the same time.
A short explanation of what it means to the community for a pub to be an ACV might help before you answer the questions. If a pub in Kentish Town is successfully nominated as an ACV it is, by its very definition, considered by Camden Council to be valued by the community.
In addition to imposing a 6 month moratorium on a disposal to enable the community to put a bid together (unlikely in Kentish Town because of high property prices) or find another pub operator, ACV registration is a 'material consideration' when the Council considers an application for a change of use from a pub.
The pubs are The Junction Tavern, The Vine, The Pineapple, The Bull & Gate, The Assembly House, The Oxford Tavern, The Lion and Unicorn, Camden's Daughter, The Abbey Tavern, The George IV, The Grafton, Quinns, Leighton Arms, The Unicorn and the Rose & Crown.
Which of the pubs listed above are you familiar with?
Have you taken part in, or noticed, any community events in the pub? For example: weddings, wakes, meetings, quiz nights, music nights, snooker, pool, film nights, sports on TV etc?
If yes, please list the event, approximate date(s) and frequency.
Is there a room in the pub available for community use / meetings etc?
If yes, does the pub charge a fee for these uses?
I look forward to receiving your response to rwinf25@gmail.com , by Sunday 5th August please so we have the information in good time for our next working group meeting on 8th August.
**********************************************************************
Kentish Town Neighbourhood Forum Re-designated until June 2023
Kentish Town Neighbourhood Forum has been re-designated until 9 June 2023 by Camden Council.
KTNF applied for and was granted designation as a neighbourhood forum in April 2013. This designation runs for five years. An application was put in in February this year.
KTNF looks into Pubs as Assets of Community Values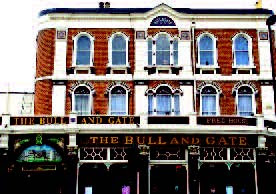 Bull and Gate 
KTNF ran a consultation between May and June 2018 asking members for their views on the KTNF making ACV applications on behalf of pubs in its area.
The Kentish Town Neighbourhood Plan (NP) contains a policy for the protection of pubs in which KTNF "recommends that all the public houses listed here [see below] are placed on the register of Assets of Community Value" at Camden Council.
KTNF is a qualified body for making an ACV application and 15 pubs are listed.
The effect of a listing is to prevent a disposal for 6 months so as to give the community an opportunity to put together a bid for the pub. For a pub to qualify as an ACV it must be shown to further the "social well-being or social interests of the local community".
Positive responses were received and a working group has been formed.
KTNF takes part in Kentish Town Planning Framework
Over several months this year, KTNF has taken part in Camden Council's Kentish Town Planning Framework Consultation.
The Planning Framework outlines the principles by which development takes place.
Members of the KTNF and Dartmouth Park Neighbourhood Forum, along with Camden Council planners have attended three workshops, and a walkabout and input ideas on issues such as future housing and green space in the development areas.
Camden Council planners are assembling the ideas and a public consultation is set to be released in the autumn.
More information:
Planters along Kentish Town Road?
Pic: Thanks to TonytheTiger
KTNF is involved in the planter project for Kentish Town Road.
Several areas of the Kentish Town Plan refer to biodiversity and green space (GO1, GO2, GO3) and Green Gateways Project.
Other local groups such as Kentish Town Road Action, Transition Kentish Town and Camden Air Action have been pushing for planters – some for over five years. And KTNF co-ordinated the efforts into a report and maps.
Following the successful Cottage Garden project organised by the KTNF on Kentish Town Overground station last year, proposal documents were sent to Camden Council.
After consultation between Camden departments and the completion of the first Planning Framework consultation, Camden Council is currently working on proposals.
Ingestre development | Car Wash site | Spring Place | Carpetright and Pizza Express buildings
Pizza Express Building
KTNF is actively engaged in consulting and meeting with interested parties on the above sites.
Changes to committee membership
KTNF welcomes Joanna Chow to the committee.
Previous KTNF newsletter: