12th Annual Meeting of Kentish Town Neighbourhood Forum
Tuesday 7th February 2023, 6.30 to 8.30pm
Kentish Town Community Centre, Busby Place, NW5 2SP
.


Cover pic from Local Plan consultation

Dan Pope Camden Council's Chief Planning Officer and Brian O' Donnell, Strategic Lead, Planning Policy & Implementation at Camden are talking about Camden's new Local Plan, looking ahead at the potential changes – including increased digital participation, and the likely effects on the Kentish Town area moving forward. They will also discuss updating the KTNF Plan and issues involved.

We have also invited Iconic Build, who are developing the ex-Carpetright Building, 152-156 Kentish Town Road to talk about the journey to date and outline progress.

Construction work at the ex-Carpetright building 512-156 Kentish Town Road
If you live or work in Kentish Town with a registered address and corresponding email, you are entitled to attend, as per the constitution.
We will also be outlining and explaining our work throughout the year and likely developments in 2023.
KTNF AGM Agenda: 6.30 – 8.30
1 Welcome and short introduction (IG)
2 Apologies (IG)
3 Approval of 2022 minutes (IG)
4 Update on Planning applications and cases (JL)
5 Green Gateways (CH)
6 KTNF response to local plan consultation (DS)
7 KTNF financial statement (JL)
8 Voting in new committee for 2023 (IG)
9 7 to 7.15pm start: Dan Pope and Brian O'Donnell on the local plan and planning change implications for Kentish Town
10 Q&A
11 Iconic Build on the ex-Carpetright Building (152-158 Kentish Town Road) [invited]
12 Q&A
13 AoB
We welcome new committee members. If you are interested, please contact us before, during or after the meeting.
Good if you can notify us in advance of attendance: kentishtownnf@gmail.com, but we will also take names on the door.
December 2022: Summary of the year
Summary: KTNF Committee meetings were changed from quarterly to every two months; we welcomed Brigitte Ascher as new committee member and Rafe Bartram as an adviser; we said goodbye and thanked Roger Winfield, Henry Herzberg for their long and distinguished service. We also thanked and said goodbye to Elizabeth Woodeson a more recent member;

We met with Murphy representatives several times and Camden Council on the Regis Road scheme. We also met Segro regarding their plans for Spring Place, and the developers of Highgate Road Studios looking at their plans; we attended a round table with the then housing minister Stuart Andrew on neighbourhood planning; and the annual London neighbourhood planners' event along with a design charette on Murphy, put on by Dartmouth Park Neighbourhood Forum. We also exhibited for the first time for a long time at the Alma Street Fair.

With a completely changed officers' team and some committee members temporarily unavailable, the concentration has been on getting a workable system on responses to planning applications (see below) and whether they are in line with the plan – the core function of KTNF.
Murphy, Car Wash site and Regis Road
Entrance to Regis Road site
On Murphy, we are waiting for a revised scheme from the company. KTNF is given to understand that the Greater London Authority is relaxing the 'amount of pressure on industrial use of the site.' And Camden Council says its concentration is on quality affordable family homes.
On the Car Wash site, there is consent for the space to be a main entrance to the scheme, 'but detail is unresolved including new pedestrian route along rail tracks.' KTNF has been invited to a group watching over the construction management plan.
Regis Road – KTNF is engaged in conversations with Camden Council on its plans for regenerating the site.
A selection of Planning and other updates from KTNF in 2022
Highgate Studios – plans to add floors to existing buildings – converting car parking to new offices. increasing space by 50%; plans bike mending facilities; opening community centre and two cafes and two access points to Murphy's.
View from Highgate Studios and a car park for development
Overall, general support. Potential issue – transport during busy times including tube access
*Representation on conversion of warehouse to two flats in Brecknock Road; KTNF said workshop is better than a warehouse
*Apollo Studios – offices to flats – 2000sq ft of flats – supported
*19-37 Highgate Road – KTNF objected to the new planning application
*George 1V – keeping pub but adding six upmarket bedsits and flats, at back and top. Holmes Road and Willes Road. KTNF has no basis to object.
*No2 Prince of Wales Road (policy in the plan) – Law Centre – community hub (permission in March) requested variation – for heat pump – reconfiguration, change pavement on Grafton Yard. KTNF position – no objection.
*Rabbit Hole – change of use from A1 to A3. Granted. As no need for a change of use they cannot ask for restrictions, but we asked that motorbikes do not park nearby.
*Camden High Line – submitted representation to support it but we would like a clearer business plan as concern re late night, noisy events.
*Meeting with Segro – no longer currently asking for change of use. They will improve the building with greening. If they cannot find tenant, then they will go back to apply for change of use.
*Ex-Underground Station in Kentish Town Road, south of Prince of Wales Road (Cash Converters) – an application to develop space at rear into workspaces and flats. KTNF opposed this.
*Regis Road site opposite Post Office Depot – a retroactive application for dark kitchens which currently operate. KTNF opposed this.
*Bartholomew Road triangle next to van hire – change of use from sui generis to B8 storage (small site) storage of catering equipment. Unsightly sites: KTNF says make it visually better like refencing and tidying it up.
*Camden Regeneration asked if KTNF would support their levelling up bid, including more sports facilities at Talacre and development of 2, Prince of Wales Road as a community hub. Bid supported.
*We supported Acland Burghley Big Lottery 'A Hall for All' funding bid to upgrade their assembly hall.
*We supported Camden Council's campaign and letter to the environment secretary for stronger protections for urban trees.
* KTNF wrote to TfL over the state of the escalators at Kentish Town Underground. TfL wrote back apologising, referring to long term investment plans.
Camden local plan consultation


Camden Council is starting work on reviewing the Local Plan of 2017 and has invited comments.

It highlights that it wants views on climate change, the provision of affordable housing, the changing role of Camden's high streets, housing delivery, job creation and economic development. Although that doesn't stop comments on other areas.

The draft updated Local Plan will be published for consultation in 2023. KTNF will send a collective response, but individual responses are welcomed. The deadline was 5pm on the 13 January 2023.
Camden consults on Community Infrastructure Levy
Camden Council has asked for ideas on how the Community Infrastructure Levy can be spent. It mentions environmental improvements and facilities for young people.

It says it will pass responses to ward councillors who will prepare a list of spending priorities for each ward.

Members of the KTNF Committee applied for feasibility funding for the Green Gateways project; suggested more public toilets and an automatic watering system for planters and funding for functions, such as website hosting and venue hire, currently supported from voluntary donations.

Objection to Kentish Town North being part of Hampstead and Highgate ward

The Boundary Commission has suggested in a consultation that Kentish Town would be split for the first time, leaving different MPs on either side of Leighton Road.

KTNF objected, saying there are more suitable areas to go into a Hampstead and Highgate constituency and that Kentish Town is more Camden than Highgate facing.

KTNF understands that any changes would not come into force immediately.

The effects of the Planning and Regeneration Bill on Neighbourhood Planning

The Planning and Regeneration Bill, currently in committee stage in the House of Lords aims to simplify Neighbourhood Planning, making it clearer what can be included and strengthening the weight given to plans in decision making.

Strong reasons will now have to be given to override the development plan, and the proposals signify the current government's commitment to neighbourhood planning.

The bill introduces Neighbourhood Priority Statements which aim to "increase the accessibility of neighbourhood plans in the development process," and which local authorities need to take "into account" when preparing their local plan.

Existing neighbourhood forums could use Priority Statements alongside the Neighbourhood Plan to emphasise elements the local community wants to see and considered.

Also, the proposals allow Neighbourhood Plans to bring forward more housing, with the "general conformity with strategic policy" in the plan removed specifically for housing. Previously neighbourhood forums efforts to increase the amount of housing were blocked based on "general conformity."

Levelling Up and Regeneration Bill
https://bills.parliament.uk/bills/3155

Planning appeals procedure simplified

Camden has adopted a new online submissions appeal from the Planning Inspectorate, which the PI says is a simpler, more intuitive process, which makes it easier and faster to submit an appeal a planning decision.

It involves a standardised government format on gov.uk, instead of the Appeals Casework Portal. It has built in guidance and validation to ensure the correct information is submitted.


Camden to roll out new digital planning services

Camden is in line to introduce new planning services which aim to speed up the planning process for applicants and planning officers whilst reducing the number of invalid applications.

The government has been working on pilots in tandem with the Planning and Regeneration Bill. The initiative focuses on three key elements: digital citizen engagement, modern planning software, and planning data that is easier to find and trust.

Buckinghamshire, Lambeth, and Southwark Councils have launched the following
services with Camden set to follow suit, as part of the same initiative:

*Find out if you need planning permission
*Apply for a Lawful Development Certificate
*Back Office Planning System

The first is in relation to permitted development, the second about legality and proof,
while the third aims to make life easier for planning officers, as well as their communication with applicants.

Camden is in line to follow suit, following a grant of £400,000.

KTNF takes stand at Alma Street Fair 2022
Come and visit us at our stall at the Alma Street Fair, 12-6pm.
We are asking residents how Kentish Town could be improved, and whether the Kentish Town Plan should be revised.
We are launching a series of talks in the autumn at the Kentish Town Community Centre. The first is on 21 September, Curious Kentish Town from BBC journalist Martin Plaut who will provide a visual tour through Kentish Town's history and noteworthy buildings.
In November, it is How Planning Works. The Planning Aid Service England from the Royal Town Planning Institute will outline the fundamentals of the planning system, how it is changing and how local communities in Kentish Town can become more involved.
We are also launching a film competition with films on Kentish Town. More details on the stand.
Also on offer – books, plants and possibly home-made cakes.
KTNF objects to Murphy's planning application
Kentish Town Neighbourhood Forum has made an official response to the Murphy's Yard planning application submitted for by Folgate Estates Ltd (2021/3225/P) and in its current form objects to it.
KTNF wants to see the Murphy site redeveloped to become an exciting comprehensive mixed development incorporating, new housing, of which 35% is affordable, new office and industrial workspace, some leisure and community facilities, and generously landscaped public space providing a traffic-free route between Kentish Town and Hampstead Heath.
The scheme proposed in this application attempts to achieve these objectives but does not yet illustrate an adequate application for KTNF to support. There are matters KTNF would like to see resolved before final consent is granted, set out in summary below. The full text of the letter is here.
Camden's Design Review Panel (DRP) Meeting 23/7/2021
The minutes of the panel meeting which took place after the application was in, are critical and run to 12 pages. KTNF considers that there are so many issues still to be resolved that consideration should be given to the application being withdrawn at this time and resubmitted after further design work is done.
Tower Heights
We are concerned about the view of the site seen from Parliament Hill and Hampstead Heath, and we note the DRP comment that the tallest ones would be better if reduced by two storeys.
We would like to see a study done to identify the effect on the number of housing units that would be provided if these storeys were cut down. If the 750 housing units proposed could not be achieved when the tower heights are lowered then KTNF would like both the London Borough of Camden, and the GLA, to relax their insistence on such a demanding residential brief, so that the buildings are less tall and less bulky.
Massing of Buildings along the Railway
KTNF has expressed concern for some time over the proposed massing of buildings on plots FGH and I, which appear as a 'wall' of building when seen from Kentish Town. This is down to the accommodation requirements in the brief, and we question whether the demands set by the brief are too great to be achieved on this site?
The Car Wash Site. (369-377 Kentish Town Road)
KTNF insists that no consent be given to this application unless, and until, there is a condition imposed that no construction on the application site can commence until the Car Wash site is built, and a clear route with a new (6m) ramp to be built alongside the railway lines, is also complete.
Links to Other Adjoining Sites
KTNF also requires commitments to be given by the developer to ensure that an adequate arrival point for a bridge link from the Regis Road site is allowed for in any consent given for this application. We suggest a 6m wide bridge to accommodate pedestrians and cyclists.
On Cycle Routes KTNF agrees with the Design Review Panel but wants more consideration for pedestrians – and suggest all pedestrian routes be increased to 3m, with clear protection for pedestrians and a separation in cycle lanes for two-way traffic.
Community Facilities
KTNF is dissatisfied with the non-specific reference to community uses being incorporated within the Healthcare building, and elsewhere on the site. Specific space allocations and locations are needed for different age groups.
The Health Care Building
We are concerned that there is no clear description within the application that sets out what the Health Care building is to be used for, and what purpose it is designed to serve. It is a large building, and we would like its use to be explained, so as to be assured of its suitability in its setting.
Greening and Landscape
We support the DRP's proposals for improving the opportunity for the provision of green roofs. There is no commitment to the provision of green roofs in the application parameter drawings or design codes. The buildings and the Heath Line should accommodate as much greenery and vegetation as possible and the requirements for green planting should be locked into outline planning.
Housing Quantity to be Fixed
The KTNF thought the Greater London Authority and Camden Council brief was for 750 houses, but now the application is seeking consent to permit this figure to be raised to 825 units. Any consent to enlarge the residential accommodation beyond 750 units will either force the buildings to become bigger, or for the units to be made smaller; we consider neither of these solutions are acceptable. KTNF wants 750 residential units to be the maximum permissible.
Shed 3 and Plot I
We are concerned about the apparent lack of space between Shed 3 and the neighbouring building occupying Plot I. The distance between them seems too tight to for either building to achieve adequate daylight or external views. We question whether the roof form on Shed 3 is appropriate.
Impact on surrounding Services
KTNF is concerned to establish whether sufficient attention has been paid to the impact, on existing local services, of the significant increase in numbers, of both residential occupants on the site, and those employed.
We would like to see a more detailed study to assess the impact of the population increase on the surrounding transport network, to confirm that it can cope, or whether additional services may be required.
Security and Management control
A management control centre will monitor CCTV throughout the site. However, it is not clear whether all the site is to be adopted by the local authority, or the entire development area is to remain in private ownership. KTNF would prefer that the main public route from Kentish Town to Parliament Hill is adopted, but if private, information is needed on maintenance, cleaning, and security and how these are funded.
Lessons from Grenfell Tower
Whilst the final results of the Grenfell enquiry are awaited, the KTNF are concerned that lessons that can be learned from the Grenfell tragedy are applied to the design and building of the tower blocks, which are due to be constructed in a later phase during a decade of building.
Phasing
We note the suggestion made in the DRP report for the construction work associated with the existing shed buildings, (Sheds 2 and 3), to be in the first phase of building work. KTNF sees no need for this change to the building phases proposed by the applicant, which sets out that building phases progress from Kentish Town Road towards Gordon House Road.
Maintaining a Temporary Route During Construction
We have repeatedly requested that the consent be conditioned on the basis that a temporary pedestrian and cycle route is maintained across the site, from Kentish Town Road to Gordon House Road, throughout the entire construction period, like the temporary route provided during the Kings Cross, enabling the public to observe progress.
CIL Benefits
The application says Community Infrastructure Levy (CIL) is to be used to pay for the costs of building the entrance ramp from Kentish Town Road into the development. The ramp is essential, but we do not consider that the planning consent should include such a provision. CIL money is a matter of agreement between the developer and Camden Council based upon an agreed financial viability assessment. We are also concerned that enough CIL is set aside for plans outlined in the KTNF Plan.
Affordable Housing
KTNF is concerned that the outline application has no commitment to the provision of a specific breakdown of types of affordable housing accommodation. We consider this commitment essential within the outline consent to avoid the possibility of reduction as the scheme develops on site.
Delivery Partner
The DRP suggests under their heading 'Routes and Connections' that a 'delivery partner' is required to ensure all links to the site can be provided. We have been unable to understand what is meant by this and would welcome an explanation from Camden, or the DRP.
The Viewing Corridor
It is a disappointment to KTNF that the view of Hampstead Heath, as seen from outside Kentish Town station, as required in our Neighbourhood Plan, has not been realised, but understand that the amount of accommodation set by the brief conflicts with the viewing corridor.
To compensate we would like the roof on Shed 2 to be redesigned and reduced in height or the roof of Shed 3 removed entirely to improve views of Hampstead Heath. And stress that more trees, roof gardens, and green walls are incorporated in the detailed design of buildings as they become submitted for Reserved Matter Applications.
Sustainability
KTNF concurs with the comments made by the DRP that the Sustainability report, (by Hoare Lee), is too general in setting out objectives but not specifying sufficient detail.
Questions remain over how materials from existing buildings are to be reused, how materials are to be sourced, how carbon assessment is to be applied, and how existing facades are to be retained.
Parameter Plans
The parameter plans indicate both height and massing of buildings can be enlarged to the maximum extent, (see red lines), to the point where the scheme would not bear any truthful relationship to the illustrative images, as illustrated in the CGIs, and the scheme which we have been discussing with the design team, and which has been exhibited. KTNF does not agree and finds it unacceptable and can only commit to 'black line' massing with all lift motor rooms, mechanical and electrical plant, and other rooftop projections contained within the black lines.
Construction Traffic on Surrounding Roads
KTNF is concerned the main roads bordering the site, Kentish Town Road, Highgate Road, and Gordon House Road, already heavily used, will be overwhelmed by construction traffic. We need assurance that this has been considered.
Has any consideration been given to the use of the adjoining railway tracks for the delivery and removal of some of the construction materials?
Consultation and Design Reviews for RMAs
As formal consultees, KTNF confirms its requirement for continuing dialogue with the design team, and with Camden Council, to ensure that the objectives consented in the outline application are included in the subsequent Reserved Matters Applications, (RMAs), and consents.
Conclusion
The matters we have listed above are ones which we consider are important to incorporate in the development proposals before planning consent is granted.
All these are matters that will improve the quality of the comprehensive development of this important site. However, we understand that this is an outline application, and as many of the matters we have raised will be dealt with under Reserved Matters Applications, (RAMs), when the individual buildings develop at detail design stage.
When the matters we have listed above are dealt with and resolved, then we will support the application, as then the proposed application will reflect the main aims, and the vision we set out in our Neighbourhood Plan, which were later confirmed in the London Borough of Camden's 'Kentish Town Planning Framework' document. In its current form, KTNF objects to this application being granted consent.
Kentish Town Neighbourhood Forum's, (KTNF), response to the application submitted for Murphy's Yard by Folgate Estates Ltd, application no. 2021/3225/P.
Green Gateways pilot progresses



KTNF, in association with Kentish Town Road Action and Transition Kentish Town is working on a pilot scheme for a Green Gateway, as outlined in the KTNF Plan.
The Kentish Town Neighbourhood Plan of 2016 under 'Green and Open Spaces' describes the 'Kentish Town Road Green Gateways' project as the "Redesign of [four] road junctions to create more useable public space: removal of a few parking bays, addition of enhanced paving and planting in permanent/ durable planter beds to ensure longevity."
The Green Gateway committee has been working on the project for 18 months and has met with several LBC officers to discuss options for a pilot scheme and has been encouraged to enter the Spacehive crowdfunding scheme in association with Camden Council.
Projects which meet the Camden High Streets Prospectus criteria are put forward for crowdfunding – and Camden Council will match fund the crowdfunding sum.
Initial designs (elevation credit: Chris Hudson) and costings have been produced and a call for crowdfunding is set for the Spring.
KTNF discusses business support with the Council
KTNF representatives have met Genny Fernandes, Camden Council's Business Engagement Manager, to discuss how the forum can increase cooperation with the council to support businesses in the neighbourhood.
Ms Fernandes outlined the council's priorities for business in the borough, including the Good Work Camden Site programme, which aims to help residents into 'good employment' through partnerships with companies and other organisations.
The programme is the result of conversations between the council, residents and community leaders over the last few months. It will consist of neighbourhood job hubs to publicise local opportunities and provide services such as help with job searches, online application forms, writing CVs and interview coaching.

KTNF is looking forward to building on this initial contact with Camden Council's Business Engagement Team to implement the Kentish Town Neighbourhood Plan's emphasis on promoting small businesses, including retaining and increasing floorspace for them.
KTNF tests site planning notice service
KTNF gas been engaged in a project with Futuregov in a pilot to improve the ways that Camden residents engage in the planning process including a site notice service.
The site notice service aims to help residents to find out about major developments in their local area and provide feedback easily online.

Another aim is to engage more residents in decisions about major developments so that those most impacted can influence the changes and ensure that developments meet local needs.

PLANNING UPDATES KENTISH TOWN
No2 Prince of Wales Road (Camden Law Centre)
(Pics: Philippa Bramson)
Camden Council is keeping the building at 2 Prince of Wales Road and refurbishing it – improving the layout and turning first floor into a neighbourhood hub.
KTNF in principle welcomes the development's ambition to provide shared work and activity spaces for use by businesses and local voluntary/community groups, together with accommodation for other organisations that will benefit from co-location.
These objectives appear to be in accordance with the Kentish Town Neighbourhood Plan. It is a policy building in the neighbourhood plan if it became available.
Ex Carpetright building: construction set to proceed

The last two planning conditions, archaeological and ground surveys have been met, and construction can proceed.
The planning permission agreed in 2016, allowed complete demolition of the existing building followed by the construction of a new building including basement and ground floor (retail), first floor office and upper floors of residential flats – if conditions were met.

The archaeological investigation revealed an 18th century refuse pit with clay pipes dated between 1740 and 1780, a chamber pot, cow bones and oyster shells and hand-pressed brick associated with properties constructed on the site between 1801 and 1849.
The full suite of planning documents can be found on Camden Planning if you search for 2021/1961/P.
Application for an array of aerials on building adjacent to Car Wash site
KTNF Planning Committee is considering a general policy on applications for aerials which could include aspects such as noise, lighting and health effects.
Refits and empty premises
The old Starbucks and Costa Coffee premises have been fitted out. A new discount house-ware retailer has arrived. The Kentish Town Fish House premises are empty and being refitted.
New allotment home at Kentish Town Fire Station
The allotment at Number 19 Highgate Road has been transferred to the forecourt of the KentishTown Fire Station.
The allotment was one of the initiatives arising from the Kentish Town Makers Group, and is run by volunteers from local community groups.
It fitted well with the London Fire Brigade's environmental agenda. Some of the groups using the pop-up space at Number 19 are set to move to 2 Prince of Wales Road (see above) when the building is ready.
Camden Council is consulting on site allocation plans
KTNF representatives attended the consultation meeting in November.
Brian O'Donnell, Strategic Lead Planning Policy & Implementation said the site allocation plan would have no direct impact on the Kentish Town Planning Framework and should be complementary.
The Site Allocation Plans sets out Council's approach to planning applications in the different areas. It has more weight that the framework, but KTPF has more detail and they should work together.
No-go for SEGRO
SEGRO's plans for Spring Place
December 2021: Camden Council has refused permission for a new goods depot in Kentish Town following objections from Kentish Town Neighbourhood Forum and a wide range of local groups and individuals.
More than 500 objections were lodged against the application in January 2021 by the international property developer SEGRO to change the old Addison Lee taxi maintenance depot on Spring Place into a storage and distribution centre. The redevelopment would have allowed early morning and late evening HGV deliveries, plus day-round journeys by smaller distribution vans, seven days a week in a largely residential part of the neighbourhood close to three schools.
The Council rejected the plans in early December on the grounds that they would increase traffic, air pollution, danger to pedestrians and cyclists, and noise nuisance for residents. Camden also found that the proposals contravened several local planning policies, would promote 'non-sustainable modes of transport' and lacked a construction management plan.
"KTNF engaged extensively with the developers during the pre-application phase but the crux for us was the proposed change of use from industrial to storage or distribution," explained
Niall Monaghan, the Forum's Vice Chair. "We felt this would inevitably result in hazards for nearby residents."
KTNF's objection to SEGRO's application pointed out that it misrepresented the Kentish Town Planning Framework and incorrectly conflated Spring Place with policies around Regis Road and Murphy's Yard to justify the impact of anticipated vehicle movements on the wider road network. KTNF also raised concerns about the accuracy of SEGRO's figures for previous traffic levels and the viability of the proposed route for HGVs.
SEGRO resubmitted an amended application in August, but KTNF found that the changes were not sufficient to support the change of use. At the time of writing, SEGRO had not appealed the decision.


Aerial view of the site
September 2021: Spring Place: KTNF says site unsuitable for B8 despite changes
The Kentish Town Neighbourhood Forum remains unconvinced that the Spring Place site is suitable for B8 storage or distribution use, having considered the updated information for this application (2020/5913/P).

SEGRO, the company behind the planning application submitted revised documents in August, following meetings with the Council and consideration of comments on the proposals. cover the following key issues as outlined in a covering letter:

The main changes submitted in August include:

· Plan and elevation changes to accommodate off-loading within the building rather than from the road
· Transport note – routing via Holmes Road and Grafton Road to the South – with no routing via Queen's Crescent or Gillies Street
· Updated traffic survey data
* The full issues are outlined in a letter
KTNF appreciates the council's assurance that its previous objections have been noted, however, we are reinforcing the following concerns in the light of the additional information:

*Concentrated early morning HGV movements, seven days per week, within this predominantly residential area which would also impact on a key part of Camden's Strategic Cycle Network

* SEGRO presents a subjective interpretation of the Kentish Town Planning Framework, incorrectly conflating Spring Place with policies around Regis Road and Murphy's Yard, to justify the impact of anticipated vehicle movements on the wider road network

·*SEGRO continues to reference insufficiently substantiated vehicle movement figures for the Addison Lee repair garage, as a precedent, which the local community refutes. We understand that the figures are quoted third hand from a previous recent planning application.

The Kentish Town Neighbourhood Forum does not support the proposed change of use at 3-6 Spring Place and remains convinced that a suitable occupier could be found within the existing use classes as Kentish Town continues to evolve.

KTNF is eagerly awaiting details of Murphy's application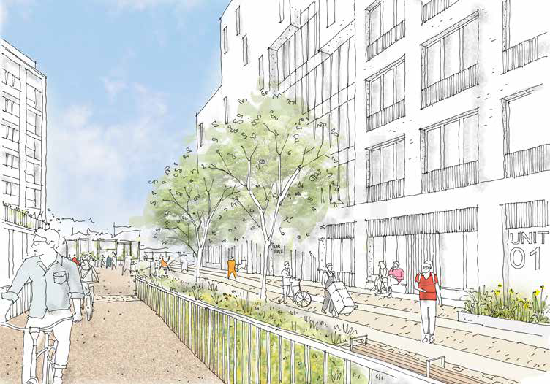 Murphy's Yard Development – Plan of The Sidings
KTNF understands that Murphy has submitted the planning application for the development of its land and technical aspects are under consideration at Camden Council.

Besides wanting to discover Camden's planners' reaction to the submitted scheme, the committee is pushing for the Car Wash site to be included. It has concerns that the scheme as it stands is too dense with 750 homes and a set amount of workspace specified, although acknowledge that the parameters are set beyond Murphy and Camden Council.

On housing, based on consultations and presentations, KTNF thinks there needs to be more clarification on the type of housing that is proposed.

On traffic KTNF thinks there should be more detailed traffic impact studies and how things move around the site. The committee wants to see a route from Kentish Town to Hampstead Heath maintained during construction.

On sustainability, the committee has concerns prior to the application being submitted.
For more information on the plans, visit https://murphysyardconsultation.co.uk/
Beer garden calls time
Entrance to The Garden. Pic: Dee Searle

Blink and you missed it! The Garden at Kentish Town, a 20,000 sq. ft beer hall holding up to 1,000 drinkers, was open for barely a month earlier this summer.

The Garden launched itself onto the Kentish Town scene in early June, promising "London's biggest and newest new food, drink & entertainment hub", hosting weekly events including "bottomless brunches, Drag Bingo, Oktoberfest & SO MUCH MORE! [with] two huge LED screens, sat above stages set up for live performance, ensuring every event will be one to remember."

Kentish Town Neighbourhood Forum and other community organisations were surprised. Where would such a large high-profile addition to Kentish Town's nightlife scene be located? Surely it would need planning permission?

A bit of sleuthing revealed that The Garden was to be in a large tent in the car park of the former Fairfax Meadow catering butchers on the Regis Road industrial estate. At the time of its pre-launch publicity, the venture did not have planning permission, but it had obtained an alcohol licence from Camden Council and was scheduled to begin operations in time for the summer's big sporting events, including the knock-out stages of the Euros (the rescheduled 2020 European Football Championships).

In response to an enquiry from KTNF on 7 June, Camden Council's Planning Department confirmed: "Council and police licensing officers made a site visit last week. The venue is currently under construction, will be a 'destination site', and [is] planning to be [on] site for around 2 years. The operators have operated similar sites and nightclubs, predominantly in the borough of Lambeth…

"Planning permission has not been sought for this use. I have advised the operator that as they will be operating for more than 56 days, they will need to submit a planning application as soon as possible." Uses of 56 days or less are regarded as temporary and do not require planning permission.

However, as soon as The Garden opened in late June there were complaints and objections from nearby residents about noise from the semi-open structure and anti-social behaviour by some customers. Inkerman Area Residents Association (whose area includes some of the residents affected) contacted local councillors and told the Licensing Department that the Beer Garden was operating in breach of its licensing conditions and asked for enforcement action.

KTNF was monitoring the situation and was prepared to respond once The Garden submitted its planning application. Then, as suddenly as it arrived, The Garden announced that it had closed and withdrawn its planning application "because of local objections". Some commentators suggested that the real reason was that the venue had made its money from the Euros and profits were likely to fall after the easing of lockdown on 19 July, which meant increased competition from well-established Kentish Town and Camden pubs and bars.

"The arrival and departure of The Garden illustrates the importance of local planning processes," said Roger Winfield, Chair of KTNF. "These processes help ensure that developments benefit businesses and the community and enhance our vibrant neighbourhood."
Dee Searle

Camden Highline plans take shape
Pic Credit: James Corner Field Operations
Work on the Camden Highline is continuing apace

A design team was selected in February including James Corner Field Operations (who designed the New York High Line); vPPR Architects (local Kentish Town architects, founded by a former employee of James Corner Field Operations and a member of KTNF Committee); London artist Hew Locke; community consultation organization Street Space; and Dutch garden designer Piet Oudolf (who also worked on the New York High Line).

The team made their second public presentation live over YouTube on 28th July, revealing their first outline proposals, which can be viewed at https://youtu.be/sMoBrYaAAio. The team are now processing feedback on their design proposals from this and local, community-based consultations. They are welcoming any further comments.

The team will work through a series of pre-application discussions with Camden's planning department and intend to submit the full application in December this year.

Although it is just outside its boundary, Kentish Town Neighbourhood Forum takes an interest in the Camden Highline and continues to be consulted and updated by the team running the project.

You can sign up for email updates about the Highline at https://www.camdenhighline.com/.
Tatiana von Preussen of vPPR ARCHITECTS
Tatiana is a member of KTNF Committee

Kentish Town Planning updates
Pics – Philippa Bramson
Carpetright site
There has been an application to vary one of the conditions at the Carpetright site.

TfL says the design of piling is too near to the Underground lines. The footprint of the basement needs to be smaller. The basement is now not under the pavement of Kentish Town Road and permission for lightwells is no longer required. A lot of technical work has taken place on this.

New materials have been brought to the site recently.

Roof terrace on Bull & Gate
KTNF supported it with some amendments; Camden turned down the planning application; The owner has appealed to the planning inspector.

Kossoff Bakery
Two years ago, a businessman approached KTNF; We went on walk with Aaron Kossoff looking at empty premises – and now there is a new bakery on Kentish Town Road two years later.

Pizza Express building
The awnings have come down, and the apartments can be seen. Developers Vabel are pursuing an operator to run a cinema.

PLANNING POLICY UPDATE
Camden Council adds Article 4 Directions
Camden Council has used its planning powers to protect commercial, business, and service uses and has made Article 4 Directions to withdraw a permitted development right.
It affects (Class MA) to change from Use Class E (Commercial, Business, and Service) to Use Class C3 (dwellinghouses) for parts of the borough where there exists strong justification.
Permitted development rights allow certain types of building work or changes of use without the need for planning permission. An Article 4 Direction allows a local planning authority to withdraw certain permitted development rights, so that planning permission is required.
Article 4 Directions:
www.camden.gov.uk/article4directions
Government and planning changes
With changes to the national planning regime afoot, the government has responded to National Planning Policy Framework and National Design Code consultation responses:
And changed the National Planning Policy Framework:
https://www.gov.uk/guidance/national-planning-policy-framework

It has published national design codes:
https://assets.publishing.service.gov.uk/government/uploads/system/uploads/attachment_data/file/957205/National_Model_Design_Code.pdf

It has backtracked on its controversial proposal to implement a flat rate national infrastructure levy which has led to expectations that further planning proposals in the White Paper will be watered down.

The new infrastructure levy to replace section 106 is set to proceed, but the rate will be set locally with councils still having a say on where the funding is spent.

Autumn is set to be a busy period in terms of planning policy with the Planning Bill set to go before the House of Commons.

Important: updating the KTNF database
We are currently updating our database.
Everybody who lives and works in the Kentish Town Neighbourhood Forum Area (see link) can be a member of KTNF, and as such is invited to vote at the yearly AGM and receive information and updates, now more regular as we emerge out of lockdown restrictions.
Those outside the area can still receive information and updates.
The KTNF Constitution requests that members provide their address and post-code. Please check if you live/work within the KTNF area and reply to this email with your current name, email address and home or work postcode – whichever is appropriate, also so we can verify or correct the information we hold for you.
This also helps us to comply with the General Data Protection Regulation. Thanks.
Email name, address and post code
kentishtownnf@gmail.com
Summer 2021: Camden planners questioned on Kentish Town developments
Schematic of the Murphy's Yard Development
Earlier this month (May), the Kentish Town Neighbourhood Forum Committee ran a question and answer session with Chief Camden Planning Officer, Dan Pope and Strategic Lead, Planning Policy and Implementation, Brian O'Donnell.
It covered the following:
Progress on the Murphy site
Regis Road developments
How Camden sees the framework area
Affordable housing initiatives
A new Kentish Town science innovation centre?
How permitted Development Rights may affect the High Street
The 15-minute city and its influence on planning decisions
Extension of Conservation areas
The Kentish Town Neighbourhood Plan, now and in future
Plans for Article 4 Directions
Full Q&A: question-and-answer-session-with-dan-pope-and-brian-odonnell-003-1
Spring 2021:Latest on the Murphy development
The proposed redevelopment of Murphy's Yard, comprising 15.5 acres (6.3 hectares) of land to the north and west of Kentish Town station, is the largest and most significant project Kentish Town has seen.
The plans include 750 homes, 41,000 sqm of industrial space, 33,000 sqm of office space, plus health care, leisure and retail facilities, as well as open spaces and a direct route from Kentish Town to Hampstead Heath.
Along with the substantial benefits the scheme could bring to Kentish Town, there are considerations about the impact of such a large, high-density development on the existing diverse and vibrant local community. Therefore, KTNF has been engaging fully since the beginning of the process and responding to all public consultations arranged by Murphy and the design team.
Currently our input is focused on:
comments about the views of the Heath specified by the viewing corridor set out in the Neighbourhood Plan;
a request for Murphy to produce more drawings explaining how their proposals will be seen from various positions both outside and within the site;
the need for a physical model to illustrate how the considerable change of levels within the site will be dealt with;
questions about the density and types of housing that are to be included, particularly the amount of affordable housing;
seeking clarification of how service vehicles move within and around the car-free site;
details of how cyclists and pedestrians can move through the site without conflicting with each other;
the inclusion of other community uses within the development, such as sports, education, leisure, health, and youth activity;
how the detailed design will respond to the needs of climate change and sustainability.
KTNF was formed in 2011, in response to The Localism Act of that year. Among many other proposals within our neighbourhood, we identified the Murphy site as a special one in Kentish Town because it was cut off from public access, grossly underused, and needing redevelopment.
Lengthy local consultations resulted in us preparing a vision for a comprehensive mixed-use redevelopment to include much needed new housing, especially affordable homes, new workplace facilities to serve the changing requirements that have emerged over the post digital years, and importantly the incorporation of an entirely new landscaped pedestrian route passing through the site connecting Kentish Town with Hampstead Heath.
After five years of work with the community, Camden Council, and the landowners (Murphy), KTNF published the Neighbourhood Plan, which was formally adopted by Camden Council in 2016.
KTNF is encouraged to see that Murphy have assembled a professional design team of planners, architects, and landscape architects who have expressed their agreement with, and support of, the vision for the site, while considering options for accommodating the requirements for 750 new homes set by Camden Council and 41,000 sqm of industrial space set by The Greater London Authority, along with 33,000 sqm of offices. We are pleased to see how the design team plan to reuse some of the historic railway buildings, and to provide a well landscaped route that allows pedestrians and cyclists to walk and cycle through the site between Kentish Town station and the Heath.
KTNF is excited by the prospect of eventually achieving the vision, first set down 10 years ago, which, if carefully designed, will produce a hugely significant new development for Kentish Town. We await further material from the Murphy design team, following our request for more information and some more detailed drawings, so that we can see how closely they are able to fulfil our vision for the site.
Murphy says it is looking to submit a planning application at the end of May and there will be another consultation in early May.
Watch out for details for that on the website: https://murphysyardconsultation.co.uk/consultation/
The Murphy team has asked us if we hear of community groups who would benefit from a separate session – they have asked to contact them via the website.
KTNF creates standing committees
KTNF has created five standing or sub committees – Green/Environment, Planning Policy, Business, Community Engagement and Murphy's Yard/Regis Road.
It is thought that these better harnesses specific knowledge and issue focus and the groups will meet between quarterly KTNF committee meetings and feedback.
Joanna Chow chairs the business committee, Luci Noel the Community Engagement Committee, Ian Grant the Green and Sustainability committee, Niall Monaghan Planning Policy Committee, and Henry Herzberg, the Murphy's Yard/Regis Road committee.
Changes to KTNF Committee
Henry Herzberg has stepped down as deputy chair and thanked for his work, particularly on the Murphy and Regis Road sites. He remains on the committee.
Dee Searle has joined as a committee member. Dee has experience of charity and communications sectors including at Amnesty International the University of the Arts and was on the National Executive of the Green Party.
The position of deputy chair has been taken by Niall Monaghan.
Current and existing planning applications
An application by a 5G mobile network operator for aerials on Monmouth House on Raglan Street has been turned down. An appeal gone to the Planning Inspector.
And an additional storey of student accommodation at the Stay Club in Holmes Road has been turned down and gone to appeal.
Pizza Express building work going ahead. The façade screening is due to come off and the building set to complete in the last quarter. The ground floor is a bespoke cinema.
And work is ongoing at the Old Carpetright building.
KTNF responds to the LSDC Social Value in Regeneration consultation
KTNF thinks London needs its own approach to social value, being different to other parts of the country and different governance structures.
Communities and representatives will need training and education in the various areas – Scoping, Investment, Planning. Design, Procurement, Construction, and In-Use. GLA should provide this in the categories outlined for the proposals to function effectively.
There needs to be standardised accredited training for community representatives who want to be involved in each of these areas with options for individual modules and a continuum.
In terms of community consultation – digital tools should be used to increase social democracy.
We like the idea of social impact bonds and are good idea to make this happen. They could be used during the different stages – Scoping, Investment, Planning. Design, Procurement, Construction, and In-Use.
Green Gateways update
KTNF and Kentish Town Road Action are working with Camden Council representatives on a Green Gateways pilot on one of the four roads off Kentish Town as outlined in the KTNF Plan.
There was a walkabout last Summer and the Green Gateways working group and officers from Camden Council's Transport and Green Space met to discuss ideas and potential, and the working group finished a Council checklist.
Camden wanted to align the project to the Parklets Test & Learn group. The Parklets group are using 5 pilot projects as pathfinders to help to understand the permissions required for parklets. However, after discussions Camden thought the Green Gateways are more technically complex. It says it is committed to the project and hope to move forward with it this year.
A&A Self Storage redevelopment
A&A Self Storage is currently working on new proposals for the redevelopment of its existing site at Greenwood Place, Kentish Town.
A&A has operated a self-storage facility at the site for many years and want to upgrade it to modern standards.
The draft proposals will involve the demolition of the existing building and its replacement with a new and modern self-storage facility.
Immediately in front of the proposed development site is the Highgate Centre, which is a property owned by Camden Council. There is an agreed planning permission here for 34 apartments and a social enterprise unit housed in a building ranging in height from five to seven storeys.
The draft proposals for the A&A site have been conceived to complement the existing and permitted buildings.
For more info: https://www.greenwoodplace.info/
SEGRO: KTNF responds to Planning application for Spring Place (2020/5913/P)
The Kentish Town Neighbourhood Forum remains unconvinced that the Spring Place site is suitable for B8 storage or distribution use.
It objected to the proposed change of use from industrial (B2) to flexible industrial (B2) / storage or distribution (B8) as the surrounding area is predominantly residential, and includes 3 schools, a nursery and student housing.
It raised concerns around the proposed change of use with SEGRO including the impact of a potentially significant increase in vehicle movements on surrounding residential streets and the potential for intrusive noise at proposed early morning and late evening HGV delivery times, 7 days per week. SEGRO have not been able to address these concerns.
It raised the issue SEGRO's assertion that the Kentish Town Planning Framework, suggesting that the Framework's reference to 'special servicing arrangements' and 'freight consolidation' justifies the Spring Place proposals.
Furthermore, in relation to the future development of the Veolia site, which is opposite the application site, Policy SSP6 of the Kentish Town Neighbourhood Plan specifically refers to 'Retention of existing employment space by creating new workspace for the creative sector to complement the creative businesses in nearby Spring Place' – i.e., not B8 – storage or distribution.
It recorded our concerns regarding the figures for the previous Addison Lee use are taken from Brockton Capital's planning application. We cannot accept the reported Addison Lee vehicle movements as the premises were used solely for servicing of car taxis and small delivery vans, which we expect would have taken hours, not minutes, to complete for each vehicle.
The SEGRO / Vectos transport report suggests a route for larger heavy goods vehicles (HGVs) via Grafton Road and Queen's Crescent. The Kentish Town Planning Framework (page 74) illustrates all of Grafton Road as part of the 'London Cycle Network'. Camden's Cycle Action Plan, within of the Transport Strategy, describes Grafton Road as part of Camden's Strategic Cycle Network and it is shown as a proposed cycle 'quietway' making this road unsuitable for heavy goods vehicles. The evolving 'Public Realm Vision for Queen's Crescent' would suggest that Queen's Crescent may not provide an appropriate vehicle route.
The proposed change of use would also only add to early morning queues and congestion on Kentish Town Road whilst the clear intention of the Kentish Town Neighbourhood Plan and the Camden Climate Action Plan is to reduce and consolidate traffic.
KTNF appreciates the extent to which SEGRO has engaged with us on their proposals but for the reasons stated above The Kentish Town Neighbourhood Forum is not able to give its support to the proposed change of use at 3-6 Spring Place.
____________________________________________________________________________________________________
Greening of Murphy's Yard talk at KTNF AGM
Heath Cliff – one of the proposed green areas of the development
Murphy has agreed to present at KTNF's AGM on the environmental and green aspects of the Murphy's Yard development.
The KTNF AGM is being held by Zoom on Thursday 21st January 2021 from 7-9pm. If you are interested in attending, please reply and an invite will be sent.
Topics will cover energy use, wildlife, landscaping, plants and greening generally. Some of the questions that we hope will be answered are: how will the homes and other buildings be heated; how much renewable energy will be created and stored; what measures will contribute to Camden's 2030 zero carbon target; which wildlife do you want to keep/attract and how; will there be a plant specification policy and what is the intention; how is the site designed to combat future flooding events? Additional questions can be sent in advance. Only written questions will be accepted, either before or during the meeting.
Murphy and its team will be represented by Paul Brosnahan (director) and Kate Macmillan, Dan Mahony (Architect, SEW), Stephanos Georgiou (Landscape Architect, SEW) and Jo Drane (Sustainability Consultant, Hoare Lea).
The AGM agenda can be seen here.
Murphy's Yard development

Employment area in the Murphy's development
KTNF has been consulting on the Murphy's Yard development throughout the year.
A fuller summary will be given at the AGM.
KTNF engages with government over planning changes

Photo from the joint UCL and Liverpool University report
KTNF wrote to the secretary of state, Robert Jenrick and local MP Sir Keir Starmer over changes and new proposals for the planning regime and the effect they would have on Kentish Town and the Neighbourhood Plan.
A major concern is that if non-residential premises can be converted to housing without permission and the controls that normally go with it, the quality of the new housing will suffer.
We provided evidence to support this concern from government-funded research by the Bartlett School of Planning, UCL and the Department of Geography and Planning, University of Liverpool that only 22.1% of dwelling units created through permitted development rights (i.e., without the need for planning permission) would meet nationally described space standards, compared to 73.4% of those created through full planning permission.
Other findings that reveal the inadequacy of the permitted development rights
system for housing include, fewer windows, and less amenity space (3.5% compared
with 23.1%).
We said we favour the local planning authority retaining an element of control in permitting the replacement of a retail use, by easing, not removing, their powers to influence the balance of uses for the benefit of the community.
We said the new use class E is too wide, containing uses which would not sit satisfactorily next to one another. A prime example is including 'any industrial process' in the same class as 'clinics, health centres, creches, day nurseries, day centre'. We consider that 'industrial' should have its own use class. We also question the desirability of including 'café or restaurant' in the same use class as the health-related uses just mentioned.
Given the disruption to habits this year, KTNF considers that there should be a moratorium on any changes to the planning regime.
We received a reply from Paul Martin, Planning Development Management, Planning Directorate, Ministry of Housing, Communities and Local Government.
On the permitted development rights to allow buildings to be extended two storeys upwards and allowing vacant commercial, industrial, and residential blocks to be demolished and replaced with new residential units, MHCLG said the measures will help make the best use of previously developed sites and avoid the need to build on greenfield land.
On the Use Class changes, MHCLG said it will create a new broad category of 'commercial, business and service' uses which will allow commercial, retail and leisure uses greater freedom to adapt to changing circumstances and respond to the needs of their local communities.
And on changes to the planning regime, it said Ministers are committed to modernising the planning system, ensuring it supports the delivery of more high quality, well designed homes that local people need, and creates more beautiful and greener communities.
KTNF responds to planning White Paper – Planning for the Future

Housing development – credit Alan Walker
There were some proposals in the Planning White Paper which the KTNF committee favoured, but some which were not.
KTNF, for example likes more engagement in the local plan; and the increased focus on sustainability if clearly defined.
But it has mixed views on local needs and decision making and thinks one size fits all regime and national design codes will not work.
The government and local government have a lot to do to set up the proposed new system and little details are outlined.
KTNF wants to be consulted in two steps – local plan and on individual buildings. Applications should go to as many as possible, and much more detail is needed including on zoning disputes and different building types, not just housing.
To see KTNF's full response.
Green Gateway pilot progressing

Example of a Green Gateway project in Islington
One of the projects voted for in the referendum was Green gateways at the end of four streets leading to Kentish Town High Street.
KTNF and KTRA are progressing the proposals. There was a walkabout in the summer and several meetings including with three Camden departments.
The idea is to develop a pilot at the end of one of the streets and assess its success prior to potentially implementing the other three.
KTNF meets SEGRO
SEGRO bought the building, vacant since 2017 in Spring Place from Brockton Capital and is applying for planning consent 'to widen the permitted use of the unit from General Industrial to include light industrial and storage or distribution.
It plans an £1m internal and external refurbishment and let it to one or two users ranging from TV production, food preparation to delivery and logistics and set to create 40 jobs and the company will train new employees.
SEGRO consulted KTNF at an early stage and we had the opportunity to express our concern over the volume of traffic movements to and from the site. We continue to work on our response to the traffic issue before deciding on the extent of our support or otherwise for the proposals.'
Kentish Town Planning updates
Bull and Gate – application for a terrace turned down
A planning application has gone in for the building adjacent to Doppio café for a mansard extension and change to the front façade. The KTNF response is to improve the quality of the design in relation to adjacent properties – fitting the grain – and making the mansard less oppressive.
The old Oddbins shop is now a private gym in Kentish Town Road. It is under new planning class E – so does not need a planning application.
The Old Post Office is Kentish Town Road is now a café (A1) It is under new planning use E (A1-A3) so does not need an application.
An application went in Holmes Road to add a storey to a seven-storey student block. KTNF says the area does not need D3 and the proposal 'affects the grain'. Camden Council turned it down.
Bull & Gate – KTNF supported application for terrace but stressed it was important that licensing is appropriate. Camden turned it down.
2 Prince of Wales Road – Camden Law Centre. Maintenance is ongoing (no planning application has gone in.)
Ex-Carpetright building – work ongoing. It is owned by property company of Sports Direct Group. The ground floor and basement are A1; the first floor – offices and the second, third and fourth floors – residential.
Ex-Pizza Express building. Work ongoing – steelwork going in.
The secretary of state has granted a direction which removes permitted development rights for Estate Agent's boards in town centres and conservation areas – they now need planning permission.
________________________________________________________________________________________________
KTNF AGM Thursday 23 January including: Pizza Express building developer | The Kentish Town Planning Framework and Murphy's Yard update.
A reminder that the Kentish Town Neighbourhood Forum AGM is taking place on Thursday 23rd at 7 in the Sun Room, Kentish Town Health Centre, 2 Bartholomew Road NW5 2BX.
Kentish Town Health Centre

Vabel, the developers of the Pizza Express building and forthcoming cinema will talk and there will be updates on the Kentish Town Planning Framework and Murphy's Yard along with other local issues.
Besides the agenda below, is a link to the previous AGM minutes.
Please feel free to send to local networks.
It would be much appreciated if you would feel able to make a voluntary donation of, say, £5.00, at the AGM towards KTNF's costs of room hire, maintaining the website, printing and other incidental costs that KTNF incurs as a self-financing organisation.
Thank you.
Agenda:
1. Apologies
2. Welcome and brief introduction by Chair
3. Approval of minutes of 2019 AGM
4. Treasurer's report
5. Pizza Express building – Update from the developer
6. Overview of year's activities
7. KTNF and the draft Kentish Town Planning Framework
8. KTNF and Murphy's Yard
9. KTNF and the future of the high street and environmental issues
10. KTNF and an update on current Planning applications
11. Election of Committee for 2020
12. Questions & Answers
13. Any other business
14. 1st Committee meeting of 2020 – 6 February
15. Close 8.30 sharp.
WE WELCOME NEW COMMITTEE MEMBERS. IF YOU ARE INTERESTED PLEASE CONTACT US BEFORE, DURING OR AFTER THE MEETING.
Consultation on final draft Kentish Town Planning Framework
The public consultation on the final draft Kentish Town Planning Framework is open and will run until 29 January.
Kentish Town is a key area for growth in the borough and the framework is a document to guide future development proposals in the area.
Camden plans for around 2,000 new homes, 3,000 new jobs, and connections including a new green pedestrian and cycle link between Kentish Town and Hampstead Heath.
New community facilities are also planned with key aims being to retain the sense of history and character at the same time striving for environmental sustainability.
KTNF has had a strong input into the framework over the past 18 months.
More information:
https://www.camden.gov.uk/kentish–town-planning-framework1
Workshops on Murphy's Yard development
188 people went to summer workshops and the key issues of concern were the height of buildings and traffic. Attendees wanted: green space, new access routes and housing with development driven by sustainability.
The November workshop covered: Placemaking Principles, The Evolving Layout and Massing Evolution, the Heathline – cycle and pedestrian route through the site, Open Spaces and Placemaking, Industrial Land Use, Community and Leisure needs. Plans are afoot for a food market and maker spaces. Green areas include: Pergola Garden, Heathcliff, Murphy's Meadow and Gospel Oak Gate.
750 homes are planned for the development along with 40,000sq m of industrial use and 40,000sq m office use. Workspace is planned for south with residential at north with heights ranging from 5-18 storeys with a target of 35% affordable housing plans for low energy consumption and district heating and restrictions are set to be placed on delivery vehicles.
Attendees heard that it is not a straight-forward site to develop with constraints discussed including a 9m change of level; listed sheds; viewing corridors from Kentish Town to the Heath; an ecological reserve; sewer and gas pipes and rail tunnel.
A planning application for the development is due to be submitted in the Spring of this year.
More information:
http://www.murphysyardconsultation.co.uk/
Planning Updates
The Car Wash site – planning permission received; currently working out Section 106 Agreement and Network Rail costs.
Pizza Express Building – Work progressing; steel frame erected in September; new ground floor slab and cinema pit – complete; demolition of the mezzanine slab – 50% done. Hear the latest update at the AGM.
Carpetright site – activity happening.
Raglan House – sold off; planning application in for six town houses. Expectation that consent will be given.
Regis Road Estate – Planning application in for the JML Building. Change of use class from B1 Offices to B8. No objection.
New Camden Community Infrastructure rates
The CIL is a standard charge collected from developers on a rate per sq. m basis after their planning permissions have been implemented and the funds raised are spent on infrastructure or to support the development of an area including community projects.
The Council is proposing to increase its current Community Infrastructure Levy (CIL) rates for offices, and hotel uses in Central London and adjust the rates for other uses in line with building cost inflation.
A public consultation on the proposed changes finished on the 2 December 2019 and an examination is due in the new year.
More information:
https://consultations.wearecamden.org/supporting-communities/partial-review-of-camden-s-community-infrastructur/
Dartmouth Park Neighbourhood Plan referendum set for 6 February
The Dartmouth Park Neighbourhood Plan has passed independent examination and will now proceed to local referendum.
Due to a delay caused by the general election, the referendum is due to take place on 6 February 2020.
More information:
https://www.camden.gov.uk/web/guest/dartmouth-park-neighbourhood–forum
Tree and lights update
A canopy planter has been moved for the Christmas Tree and is now opposite the entrance to Kentish Town Station. Camden Council is currently seeking a solution to the canopy space left by the tree(s).
Congratulations to Caroline Hill and Kentish Town Road Action for organising the Christmas lights and facilitating the opening celebration.
(September 2019) The cinema is coming, says developer
Pizza Express Building (Pic: Chris Hudson)
Building works have started and are ongoing at the old Pizza Express building and the director of VABEL, the company in charge of the project, says the cinema will come – next summer.
The new developer has planning permission for 12 flats and a ground floor cinema.
Director of the company, Jeremy Spencer told the CNJ that the building needed structural work to create a screening room that can hold the weight of the homes above and the designs of the flats needed to be changed to improve acoustics and sound-proofing.
Murphy's Yard Update
An Open Exhibition putting forward some ideas and asking for community input took place in July.
The seven hectare site is currently underutilised. Murphy is committed to maintaining a long-term and substantial presence on the site. The Council is supportive that Murphy remains a central part of the local business community.
But the redevelopment opens up many opportunities. Much of the operational areas are under-used, so there is a significant potential to create more affordable homes, more jobs, more open spaces, increase biodiversity, more pedestrian and cycle routes and a new public route between Kentish Town and Hampstead Heath.
Constraints include an ecological nature reserve, Network Rail access points, steep level changes, Thames Water sewer, a gas compound, a railway tunnel and rail lines.
Any development has to work within the framework of the Camden Site Allocations Plan, the London Plan, the Local Plan, KTNF and DPNF plans and the draft Kentish Town Planning Framework document.
The team is aiming for 2020 approval for the plans.
For more details and feedback form:
http://www.murphysyardconsultation.co.uk/
Future High Streets Fund

Kentish Town High Street planters (pic Chris Hudson)
Fifty projects submitted for the Future High Streets Fund were announced as going forward in July, from hundreds of applications. And a further fifty in August. The Kentish Town High Street bid did not reach the second stage.
Three sites in London selected to go forward to the next round in the first tranche were: Tottenham High Road, Old Kent Road in Southwark and Sutton High Street. Greenwich, Woolwich Town Centre and Putney Town Centre were selected in the second tranche.
Camden representatives said the Kentish Town High Street bid put forward a progressive narrative and Camden Council wants to look again and see what can be taken forward in other ways.
Camden Council is in liaison with Councillor Danny Beales on this.
On other High Street initiatives resulting from the joint KTRA, TKT and KTNF meeting in January, a letter has been sent to Camden Council on restricting night time deliveries; plans have been mooted for a street party in relation to Christmas Lights; work is underway to try to extend business hours to provide work experience for students.
On the Kentish Town High Street planters, a bulb planting session has been planned for October.
On the Cottage Garden on Platform One on Kentish Town Overground, now two and a half years old, KTNF is continuing to run the watering and maintenance with Transition Kentish Town and Govia.
Update on other developments and planning applications
The fountain under the canopy is part of Mayor of London's Freshwater Fountains initiative.
Developers are investigating building six town houses at Raglan House, Raglan Street.
The old HSBC bank unit has now been re let to Creams and is now open as an ice cream and desserts parlour.
The Fortess Road redevelopment (3 units next to the Co-Op shop) to create new flats and ground floor and basement retail unit) was generally supported by KTNF.
The old Santander bank unit next to Morgan's the printers is being fitted out by The British Heart Foundation.
The old Oddbins shop has been relet and is being fitted out and will be occupied by Inside Store London. They sell gifts, accessories and furniture we believe.
KTNF has had informal talks with an artisan baker to help them identify potential premises in Kentish Town to open a bakery and shop.
KTNF supports restricting pollarding of trees
Pollarding a horse chestnut (credit: J. Taylor – geograph.org.uk – 1268299.jpg)
KTNF supports the initiative to reduce pollarding of trees in Camden led by local resident, Harvey Flinder.
The initiative is against unnecessary pollarding which it says kills some types of trees. Following research in surrounding boroughs, the team found that even though there was less pollarding, there was no difference in subsidence claims. Subsidence risk is one of the main reasons Camden do so much pollarding.
The team also says less pollarding will provide leaf and branch cover for protection from heat and provide evaporative cooling in the summer along with increased carbon dioxide absorption.


The Ministry to visit Kentish Town
KTNF is arranging for representatives from the Ministry of Housing, Communities and Local Government to visit Kentish Town.
MHCLG wants to study what it takes to go through creating a neighbourhood forum and carry it through from inspection and referendum to an adopted plan.
We will be able to share with them the planning policies in the Kentish Town Neighbourhood Plan (which can be viewed on (www.ktnf.org) and explain what help we needed to achieve these.
KTNF seeks members for its committee
KTNF is seeking four more people to join the committee. We have set out below what being a committee member involves.
We especially welcome applications from women, people under 25 and those from a BAME background who are currently under represented on the committee.
* KTNF's main role is to monitor and progress the ambitions set out in the Kentish Town Neighbourhood Plan. We will give new committee members a face to face briefing about the Plan to enable you to understand the Policies and the ambitions behind it.
* The only real qualification we are looking for is that you have an interest in the type of development that takes place in Kentish Town and are happy to support the Policies in the Plan.
* Potential committee members will want to understand what the time commitment would be in order to carry out this role and we set out below the activities that we would ask you to commit to:
attend quarterly meetings in Kentish Town that usually last from 7pm to 9.30 pm. Apart from attending and contributing to the meetings, there may be some material that you will have to be read in advance in preparation for the meetings;
We hold one annual general meeting you would be expected to attend;
Apart from these 4 formal meetings, during the year we do most of our other business by email. This usually means seeking the views of committee members on important matters that arise on an ad hoc basis. We would expect committee members to read any relevant material and to respond to the emails within a certain time frame, for example 2 weeks is usual.
Essentially, these are the main duties of a committee member. We occasionally set up a sub group of a small group of committee members to look at a particular issue. If you have a particular interest in one of these issues, you are welcome to volunteer to join a sub-committee but this will be entirely your choice.
If you are interested in learning more about the role before committing, we would be very happy to speak with you further.
Camden consults on Kentish Town Draft Planning Framework
Camden Council has opened a consultation on the draft planning framework which includes intensive work from Kentish Town Neighbourhood Forum on the Regis Road site and part of Murphy's land.
Both areas formed a core part of the adopted plan, and several members of the KTNF were on the working party with members of the Dartmouth Park Neighbourhood Forum (whose boundary covers the other part of Murphy's) and several Camden Council planners. The group held several meetings developing plans and strategies which built upon the original plans and the first set of consultations earlier in the year.
Public consultation on the draft framework is now open and will run until 7 December 2018. The consultation is open to local residents, businesses, landowners, workers, community groups, and everyone else who has an interest in the area.
Camden Council and the group will analyse the responses and finesse the document and there is likely to be a further more limited stage of consultation in 2019 before the Council adopts the final framework as a Supplementary Planning Document.
Public open sessions where you can talk to members of the team are at Kentish Town Library, 262-266 Kentish Town Road, London NW5 2AA on Thursday 8 November 1 to 4pm and Tuesday 20 November 5 to 8pm.
Comments can also be sent to: kentishtownnf@gmail.com or kentish.town@camden.gov.uk
More details on consultation: https://bit.ly/2uNN45A
KTNF Pubs Working Group seeks answers on uses
The Assembly House
KTNF now has a working group that is obtaining evidence required to support the nomination of a pub as an ACV. And we need your help and support in this.
The KTNF committee thanks those of you who responded to our recent email asking for support to implement our policy to protect pubs in our area.
As part of this exercise it would be very helpful to receive information from you, so do please respond to the questions in this email. Our intention is to nominate all the pubs listed in the Neighbourhood Plan at the same time.
A short explanation of what it means to the community for a pub to be an ACV might help before you answer the questions. If a pub in Kentish Town is successfully nominated as an ACV it is, by its very definition, considered by Camden Council to be valued by the community.
In addition to imposing a 6 month moratorium on a disposal to enable the community to put a bid together (unlikely in Kentish Town because of high property prices) or find another pub operator, ACV registration is a 'material consideration' when the Council considers an application for a change of use from a pub.
The pubs are The Junction Tavern, The Vine, The Pineapple, The Bull & Gate, The Assembly House, The Oxford Tavern, The Lion and Unicorn, Camden's Daughter, The Abbey Tavern, The George IV, The Grafton, Quinns, Leighton Arms, The Unicorn and the Rose & Crown.
Which of the pubs listed above are you familiar with?
Have you taken part in, or noticed, any community events in the pub? For example: weddings, wakes, meetings, quiz nights, music nights, snooker, pool, film nights, sports on TV etc?
If yes, please list the event, approximate date(s) and frequency.
Is there a room in the pub available for community use / meetings etc?
If yes, does the pub charge a fee for these uses?
I look forward to receiving your response to rwinf25@gmail.com , by Sunday 5th August please so we have the information in good time for our next working group meeting on 8th August.
**********************************************************************
Kentish Town Neighbourhood Forum Re-designated until June 2023
Kentish Town Neighbourhood Forum has been re-designated until 9 June 2023 by Camden Council.
KTNF applied for and was granted designation as a neighbourhood forum in April 2013. This designation runs for five years. An application was put in in February this year.
KTNF looks into Pubs as Assets of Community Values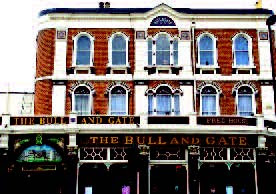 Bull and Gate
KTNF ran a consultation between May and June 2018 asking members for their views on the KTNF making ACV applications on behalf of pubs in its area.
The Kentish Town Neighbourhood Plan (NP) contains a policy for the protection of pubs in which KTNF "recommends that all the public houses listed here [see below] are placed on the register of Assets of Community Value" at Camden Council.
KTNF is a qualified body for making an ACV application and 15 pubs are listed.
The effect of a listing is to prevent a disposal for 6 months so as to give the community an opportunity to put together a bid for the pub. For a pub to qualify as an ACV it must be shown to further the "social well-being or social interests of the local community".
Positive responses were received and a working group has been formed.
KTNF takes part in Kentish Town Planning Framework
Over several months this year, KTNF has taken part in Camden Council's Kentish Town Planning Framework Consultation.
The Planning Framework outlines the principles by which development takes place.
Members of the KTNF and Dartmouth Park Neighbourhood Forum, along with Camden Council planners have attended three workshops, and a walkabout and input ideas on issues such as future housing and green space in the development areas.
Camden Council planners are assembling the ideas and a public consultation is set to be released in the autumn.
More information:
Planters along Kentish Town Road?
Pic: Thanks to TonytheTiger
KTNF is involved in the planter project for Kentish Town Road.
Several areas of the Kentish Town Plan refer to biodiversity and green space (GO1, GO2, GO3) and Green Gateways Project.
Other local groups such as Kentish Town Road Action, Transition Kentish Town and Camden Air Action have been pushing for planters – some for over five years. And KTNF co-ordinated the efforts into a report and maps.
Following the successful Cottage Garden project organised by the KTNF on Kentish Town Overground station last year, proposal documents were sent to Camden Council.
After consultation between Camden departments and the completion of the first Planning Framework consultation, Camden Council is currently working on proposals.
Ingestre development | Car Wash site | Spring Place | Carpetright and Pizza Express buildings
Pizza Express Building
KTNF is actively engaged in consulting and meeting with interested parties on the above sites.
Changes to committee membership
KTNF welcomes Joanna Chow to the committee.
Previous KTNF newsletter: