Green Gateways pilot progresses



KTNF, in association with Kentish Town Road Action and Transition Kentish Town is working on a pilot scheme for a Green Gateway, as outlined in the KTNF Plan.
The Kentish Town Neighbourhood Plan of 2016 under 'Green and Open Spaces' describes the 'Kentish Town Road Green Gateways' project as the "Redesign of [four] road junctions to create more useable public space: removal of a few parking bays, addition of enhanced paving and planting in permanent/ durable planter beds to ensure longevity."
The Green Gateway committee has been working on the project for 18 months and has met with several LBC officers to discuss options for a pilot scheme and has been encouraged to enter the Spacehive crowdfunding scheme in association with Camden Council.
Projects which meet the Camden High Streets Prospectus criteria are put forward for crowdfunding – and Camden Council will match fund the crowdfunding sum.
Initial designs (elevation credit: Chris Hudson) and costings have been produced and a call for crowdfunding is set for the Spring.
KTNF discusses business support with the Council
KTNF representatives have met Genny Fernandes, Camden Council's Business Engagement Manager, to discuss how the forum can increase cooperation with the council to support businesses in the neighbourhood.
Ms Fernandes outlined the council's priorities for business in the borough, including the Good Work Camden Site programme, which aims to help residents into 'good employment' through partnerships with companies and other organisations.
The programme is the result of conversations between the council, residents and community leaders over the last few months. It will consist of neighbourhood job hubs to publicise local opportunities and provide services such as help with job searches, online application forms, writing CVs and interview coaching.

KTNF is looking forward to building on this initial contact with Camden Council's Business Engagement Team to implement the Kentish Town Neighbourhood Plan's emphasis on promoting small businesses, including retaining and increasing floorspace for them.
KTNF tests site planning notice service
KTNF gas been engaged in a project with Futuregov in a pilot to improve the ways that Camden residents engage in the planning process including a site notice service.
The site notice service aims to help residents to find out about major developments in their local area and provide feedback easily online.

Another aim is to engage more residents in decisions about major developments so that those most impacted can influence the changes and ensure that developments meet local needs.

PLANNING UPDATES KENTISH TOWN
No2 Prince of Wales Road (Camden Law Centre)
(Pics: Philippa Bramson)
Camden Council is keeping the building at 2 Prince of Wales Road and refurbishing it – improving the layout and turning first floor into a neighbourhood hub.
KTNF in principle welcomes the development's ambition to provide shared work and activity spaces for use by businesses and local voluntary/community groups, together with accommodation for other organisations that will benefit from co-location.
These objectives appear to be in accordance with the Kentish Town Neighbourhood Plan. It is a policy building in the neighbourhood plan if it became available.
Ex Carpetright building: construction set to proceed

The last two planning conditions, archaeological and ground surveys have been met, and construction can proceed.
The planning permission agreed in 2016, allowed complete demolition of the existing building followed by the construction of a new building including basement and ground floor (retail), first floor office and upper floors of residential flats – if conditions were met.

The archaeological investigation revealed an 18th century refuse pit with clay pipes dated between 1740 and 1780, a chamber pot, cow bones and oyster shells and hand-pressed brick associated with properties constructed on the site between 1801 and 1849.
The full suite of planning documents can be found on Camden Planning if you search for 2021/1961/P.
Application for an array of aerials on building adjacent to Car Wash site
KTNF Planning Committee is considering a general policy on applications for aerials which could include aspects such as noise, lighting and health effects.
Refits and empty premises
The old Starbucks and Costa Coffee premises have been fitted out. A new discount house-ware retailer has arrived. The Kentish Town Fish House premises are empty and being refitted.
New allotment home at Kentish Town Fire Station
The allotment at Number 19 Highgate Road has been transferred to the forecourt of the KentishTown Fire Station.
The allotment was one of the initiatives arising from the Kentish Town Makers Group, and is run by volunteers from local community groups.
It fitted well with the London Fire Brigade's environmental agenda. Some of the groups using the pop-up space at Number 19 are set to move to 2 Prince of Wales Road (see above) when the building is ready.
Camden Council is consulting on site allocation plans
KTNF representatives attended the consultation meeting in November.
Brian O'Donnell, Strategic Lead Planning Policy & Implementation said the site allocation plan would have no direct impact on the Kentish Town Planning Framework and should be complementary.
The Site Allocation Plans sets out Council's approach to planning applications in the different areas. It has more weight that the framework, but KTPF has more detail and they should work together.
No-go for SEGRO
SEGRO's plans for Spring Place
December 2021: Camden Council has refused permission for a new goods depot in Kentish Town following objections from Kentish Town Neighbourhood Forum and a wide range of local groups and individuals.
More than 500 objections were lodged against the application in January 2021 by the international property developer SEGRO to change the old Addison Lee taxi maintenance depot on Spring Place into a storage and distribution centre. The redevelopment would have allowed early morning and late evening HGV deliveries, plus day-round journeys by smaller distribution vans, seven days a week in a largely residential part of the neighbourhood close to three schools.
The Council rejected the plans in early December on the grounds that they would increase traffic, air pollution, danger to pedestrians and cyclists, and noise nuisance for residents. Camden also found that the proposals contravened several local planning policies, would promote 'non-sustainable modes of transport' and lacked a construction management plan.
"KTNF engaged extensively with the developers during the pre-application phase but the crux for us was the proposed change of use from industrial to storage or distribution," explained
Niall Monaghan, the Forum's Vice Chair. "We felt this would inevitably result in hazards for nearby residents."
KTNF's objection to SEGRO's application pointed out that it misrepresented the Kentish Town Planning Framework and incorrectly conflated Spring Place with policies around Regis Road and Murphy's Yard to justify the impact of anticipated vehicle movements on the wider road network. KTNF also raised concerns about the accuracy of SEGRO's figures for previous traffic levels and the viability of the proposed route for HGVs.
SEGRO resubmitted an amended application in August, but KTNF found that the changes were not sufficient to support the change of use. At the time of writing, SEGRO had not appealed the decision.


Aerial view of the site
September 2021: Spring Place: KTNF says site unsuitable for B8 despite changes
The Kentish Town Neighbourhood Forum remains unconvinced that the Spring Place site is suitable for B8 storage or distribution use, having considered the updated information for this application (2020/5913/P).

SEGRO, the company behind the planning application submitted revised documents in August, following meetings with the Council and consideration of comments on the proposals. cover the following key issues as outlined in a covering letter:

The main changes submitted in August include:

· Plan and elevation changes to accommodate off-loading within the building rather than from the road
· Transport note – routing via Holmes Road and Grafton Road to the South – with no routing via Queen's Crescent or Gillies Street
· Updated traffic survey data
* The full issues are outlined in a letter
KTNF appreciates the council's assurance that its previous objections have been noted, however, we are reinforcing the following concerns in the light of the additional information:

*Concentrated early morning HGV movements, seven days per week, within this predominantly residential area which would also impact on a key part of Camden's Strategic Cycle Network

* SEGRO presents a subjective interpretation of the Kentish Town Planning Framework, incorrectly conflating Spring Place with policies around Regis Road and Murphy's Yard, to justify the impact of anticipated vehicle movements on the wider road network

·*SEGRO continues to reference insufficiently substantiated vehicle movement figures for the Addison Lee repair garage, as a precedent, which the local community refutes. We understand that the figures are quoted third hand from a previous recent planning application.

The Kentish Town Neighbourhood Forum does not support the proposed change of use at 3-6 Spring Place and remains convinced that a suitable occupier could be found within the existing use classes as Kentish Town continues to evolve.

KTNF is eagerly awaiting details of Murphy's application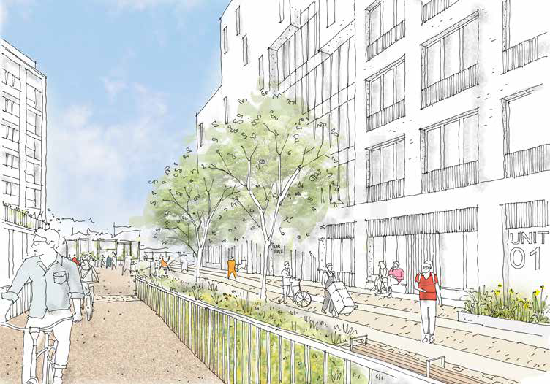 Murphy's Yard Development – Plan of The Sidings
KTNF understands that Murphy has submitted the planning application for the development of its land and technical aspects are under consideration at Camden Council.

Besides wanting to discover Camden's planners' reaction to the submitted scheme, the committee is pushing for the Car Wash site to be included. It has concerns that the scheme as it stands is too dense with 750 homes and a set amount of workspace specified, although acknowledge that the parameters are set beyond Murphy and Camden Council.

On housing, based on consultations and presentations, KTNF thinks there needs to be more clarification on the type of housing that is proposed.

On traffic KTNF thinks there should be more detailed traffic impact studies and how things move around the site. The committee wants to see a route from Kentish Town to Hampstead Heath maintained during construction.

On sustainability, the committee has concerns prior to the application being submitted.
For more information on the plans, visit https://murphysyardconsultation.co.uk/
Beer garden calls time
Entrance to The Garden. Pic: Dee Searle

Blink and you missed it! The Garden at Kentish Town, a 20,000 sq. ft beer hall holding up to 1,000 drinkers, was open for barely a month earlier this summer.

The Garden launched itself onto the Kentish Town scene in early June, promising "London's biggest and newest new food, drink & entertainment hub", hosting weekly events including "bottomless brunches, Drag Bingo, Oktoberfest & SO MUCH MORE! [with] two huge LED screens, sat above stages set up for live performance, ensuring every event will be one to remember."

Kentish Town Neighbourhood Forum and other community organisations were surprised. Where would such a large high-profile addition to Kentish Town's nightlife scene be located? Surely it would need planning permission?

A bit of sleuthing revealed that The Garden was to be in a large tent in the car park of the former Fairfax Meadow catering butchers on the Regis Road industrial estate. At the time of its pre-launch publicity, the venture did not have planning permission, but it had obtained an alcohol licence from Camden Council and was scheduled to begin operations in time for the summer's big sporting events, including the knock-out stages of the Euros (the rescheduled 2020 European Football Championships).

In response to an enquiry from KTNF on 7 June, Camden Council's Planning Department confirmed: "Council and police licensing officers made a site visit last week. The venue is currently under construction, will be a 'destination site', and [is] planning to be [on] site for around 2 years. The operators have operated similar sites and nightclubs, predominantly in the borough of Lambeth…

"Planning permission has not been sought for this use. I have advised the operator that as they will be operating for more than 56 days, they will need to submit a planning application as soon as possible." Uses of 56 days or less are regarded as temporary and do not require planning permission.

However, as soon as The Garden opened in late June there were complaints and objections from nearby residents about noise from the semi-open structure and anti-social behaviour by some customers. Inkerman Area Residents Association (whose area includes some of the residents affected) contacted local councillors and told the Licensing Department that the Beer Garden was operating in breach of its licensing conditions and asked for enforcement action.

KTNF was monitoring the situation and was prepared to respond once The Garden submitted its planning application. Then, as suddenly as it arrived, The Garden announced that it had closed and withdrawn its planning application "because of local objections". Some commentators suggested that the real reason was that the venue had made its money from the Euros and profits were likely to fall after the easing of lockdown on 19 July, which meant increased competition from well-established Kentish Town and Camden pubs and bars.

"The arrival and departure of The Garden illustrates the importance of local planning processes," said Roger Winfield, Chair of KTNF. "These processes help ensure that developments benefit businesses and the community and enhance our vibrant neighbourhood."
Dee Searle

Camden Highline plans take shape
Pic Credit: James Corner Field Operations
Work on the Camden Highline is continuing apace

A design team was selected in February including James Corner Field Operations (who designed the New York High Line); vPPR Architects (local Kentish Town architects, founded by a former employee of James Corner Field Operations and a member of KTNF Committee); London artist Hew Locke; community consultation organization Street Space; and Dutch garden designer Piet Oudolf (who also worked on the New York High Line).

The team made their second public presentation live over YouTube on 28th July, revealing their first outline proposals, which can be viewed at https://youtu.be/sMoBrYaAAio. The team are now processing feedback on their design proposals from this and local, community-based consultations. They are welcoming any further comments.

The team will work through a series of pre-application discussions with Camden's planning department and intend to submit the full application in December this year.

Although it is just outside its boundary, Kentish Town Neighbourhood Forum takes an interest in the Camden Highline and continues to be consulted and updated by the team running the project.

You can sign up for email updates about the Highline at https://www.camdenhighline.com/.
Tatiana von Preussen of vPPR ARCHITECTS
Tatiana is a member of KTNF Committee

Kentish Town Planning updates
Pics – Philippa Bramson
Carpetright site
There has been an application to vary one of the conditions at the Carpetright site.

TfL says the design of piling is too near to the Underground lines. The footprint of the basement needs to be smaller. The basement is now not under the pavement of Kentish Town Road and permission for lightwells is no longer required. A lot of technical work has taken place on this.

New materials have been brought to the site recently.

Roof terrace on Bull & Gate
KTNF supported it with some amendments; Camden turned down the planning application; The owner has appealed to the planning inspector.

Kossoff Bakery
Two years ago, a businessman approached KTNF; We went on walk with Aaron Kossoff looking at empty premises – and now there is a new bakery on Kentish Town Road two years later.

Pizza Express building
The awnings have come down, and the apartments can be seen. Developers Vabel are pursuing an operator to run a cinema.

PLANNING POLICY UPDATE
Camden Council adds Article 4 Directions
Camden Council has used its planning powers to protect commercial, business, and service uses and has made Article 4 Directions to withdraw a permitted development right.
It affects (Class MA) to change from Use Class E (Commercial, Business, and Service) to Use Class C3 (dwellinghouses) for parts of the borough where there exists strong justification.
Permitted development rights allow certain types of building work or changes of use without the need for planning permission. An Article 4 Direction allows a local planning authority to withdraw certain permitted development rights, so that planning permission is required.
Article 4 Directions:
www.camden.gov.uk/article4directions
Government and planning changes
With changes to the national planning regime afoot, the government has responded to National Planning Policy Framework and National Design Code consultation responses:
And changed the National Planning Policy Framework:
https://www.gov.uk/guidance/national-planning-policy-framework

It has published national design codes:
https://assets.publishing.service.gov.uk/government/uploads/system/uploads/attachment_data/file/957205/National_Model_Design_Code.pdf

It has backtracked on its controversial proposal to implement a flat rate national infrastructure levy which has led to expectations that further planning proposals in the White Paper will be watered down.

The new infrastructure levy to replace section 106 is set to proceed, but the rate will be set locally with councils still having a say on where the funding is spent.

Autumn is set to be a busy period in terms of planning policy with the Planning Bill set to go before the House of Commons.

Important: updating the KTNF database
We are currently updating our database.
Everybody who lives and works in the Kentish Town Neighbourhood Forum Area (see link) can be a member of KTNF, and as such is invited to vote at the yearly AGM and receive information and updates, now more regular as we emerge out of lockdown restrictions.
Those outside the area can still receive information and updates.
The KTNF Constitution requests that members provide their address and post-code. Please check if you live/work within the KTNF area and reply to this email with your current name, email address and home or work postcode – whichever is appropriate, also so we can verify or correct the information we hold for you.
This also helps us to comply with the General Data Protection Regulation. Thanks.
Email name, address and post code
kentishtownnf@gmail.com
Schematic of the Murphy's Yard Development
Earlier this month (May), the Kentish Town Neighbourhood Forum Committee ran a question and answer session with Chief Camden Planning Officer, Dan Pope and Strategic Lead, Planning Policy and Implementation, Brian O'Donnell.
It covered the following:
Progress on the Murphy site
Regis Road developments
How Camden sees the framework area
Affordable housing initiatives
A new Kentish Town science innovation centre?
How permitted Development Rights may affect the High Street
The 15-minute city and its influence on planning decisions
Extension of Conservation areas
The Kentish Town Neighbourhood Plan, now and in future
Plans for Article 4 Directions
Full Q&A: question-and-answer-session-with-dan-pope-and-brian-odonnell-003-1